Disney's live-action Beauty and the Beast brought in a record $170 million in its opening weekend, thanks to a majority female audience. It's the seventh-biggest domestic opening of all time, proving once and for all that women love beasts.

According to Box Office Mojo's breakdown, 72 percent of the audience for Emma Watson's romance tale were women. Vulture reports:
That puts the film in rarefied company: Of the rest of the top-ten biggest domestic openings, only Harry Potter and the Deathly Hallows Part 2 also had a majority-female audience. B&B's gender breakdown is in line with some of Disney's recent hits: Frozen's opening weekend was 57 percent female, while Maleficent was also 60 percent female. However, none of those compare to the 2015 Cinderella, which had an opening-weekend audience that was fully two-thirds women.
Accordingly, much of the seemingly endless promotion around Beauty and the Beast has centered on its filmmakers' decisions to translate a traditional fairytale into a modern feminist love story. The Los Angeles Times wrote about how the remake, by design, "empowers Belle's inner feminist with books, not boys." In interviews, Watson also made sure to play up Belle's independence and her role in evolving the character's backstory. Watson chose not to wear a corset, for instance, and in November 2016, she told Entertainment Weekly:
"In the animated movie, it's her father who is the inventor, and we actually co-opted that for Belle. I was like, 'Well, there was never very much information or detail at the beginning of the story as to why Belle didn't fit in, other than she liked books. Also what is she doing with her time?' So, we created a backstory for her, which was that she had invented a kind of washing machine, so that, instead of doing laundry, she could sit and use that time to read instead. So, yeah, we made Belle an inventor."
G/O Media may get a commission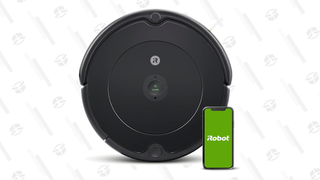 35% Off Black Friday Deal
iRobot Roomba 694 Robot Vacuum
Even the meaning of Belle's clothing was almost neurotically considered. The movie's costume designer Jacqueline Durran told WWD:
"She doesn't wear ballet pumps, she wears boots. She has her 18th-century pockets, but she has them on the outside of her costume so that you can see they're like a tool belt. They've got useful things in them that she'll need for doing the different things she does in the village. She tucks her skirt up into her waistband so you can see her bloomers, and she wears bloomers so that she can not be trapped by the skirt."
There's a familiar blueprint here, as with two previous franchises led by young women, Twilight and The Hunger Games. The Hollywood Reporter notes that Beauty and the Beast similarly "trades in the fantasy of a young woman whose love domesticates a brooding man. And while Belle isn't a woman warrior like Hunger Games' Katniss Everdeen, she's presented as an independent girl who is a lot spunkier than old-fashioned Disney princesses."