The much-hyped live-action remake of Beauty and the Beast is winging its way to theatres March 17. As the film's titular Beauty Emma Watson begins the press tour, she faces the age-old question of whether or not this tale as old as time is actually about Stockholm Syndrome or not.
In an interview with Entertainment Weekly, Watson was asked about this issue, which will certainly come up many, many more times before this movie sees the light of day. If you've see the original Disney version of this movie or the questionable full-length trailer, you might have an answer already, but here's what Watson had to say:
"It's such a good question and it's something I really grappled with at the beginning; the kind of Stockholm Syndrome question about this story...Belle actively argues and disagrees with [Beast] constantly. She has none of the characteristics of someone with Stockholm Syndrome because she keeps her independence, she keeps that freedom of thought."
Perhaps part of that "independence" and "freedom of thought" Watson is referring to is the "feminist backstory" the new version touts—Belle invents a donkey-powered washing machine, the villagers don't like it very much and they destroy it. This is the catalyst for her escape that lands her in the Beast's moldering pile of stones and talking household appliances.
While that's great, a lot of the original storyline remains intact. Belle is still trapped by the Beast. She's still his prisoner, though Watson sees it a little bit differently, I guess. This Belle can take it and dish it out at the same time?

"In fact, she gives as good as she gets. He bangs on the door, she bangs back. There's this defiance that 'You think I'm going to come and eat dinner with you and I'm your prisoner — absolutely not,' I think that's the other beautiful thing about the love story. They form a friendship first and that gap in the middle where there is this genuine sharing, the love builds out of that, which in many ways I actually think is more meaningful than a lot of love stories, where it was love at first sight."
G/O Media may get a commission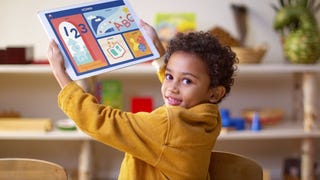 30-Day Free Trial
Homer Learn & Grow Program
I see her point, I guess, but I'm also pretty sure that what she describes is the literal definition of Stockholm Syndrome. Just saying!