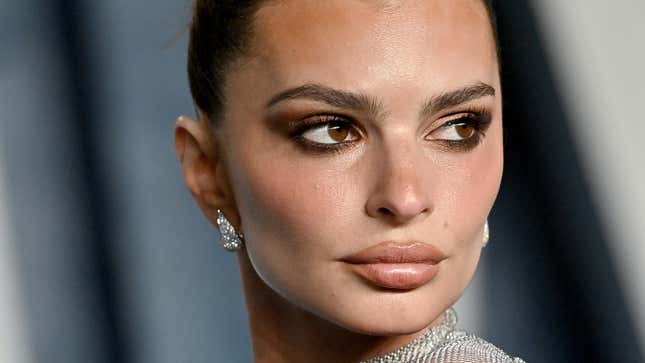 Regarding that video of her playing tongue hockey with Harry Styles that circulated last month, Emily Ratajkowski has broken her silence...in Spanish. Kind of. In a recent interview with Spanish Vogue (headline: "Emily Ratajkowski: 'I thought the most I could do with my life was be a sex object and I said to myself, "My God, I'm so unhappy." So I started writing"), Ratajkowski addressed the kiss that had her reportedly begging for the forgiveness of Styles' ex Olivia Wilde.
America's Favorite Pasttime: Dunking On Dr. Oz
(Keep in mind that the following quotes come from an article printed in Spanish that have been run through Google's translator. That the interview was likely initially conducted in English adds another layer to the syntactic fuzziness, so take these quotes, presented directly as they are, with a grain of salt.)
Regarding the kiss, Ratajkowski said, "I didn't expect this to happen [in relation to the video leak], but I think, in general, there's a reason certain celebrities live in L.A., hire security, don't go to public restaurants, etc. If there is something to understand from reading my book, it is that all I wanted was to have money, to have freedom. So the idea of ​​giving it up for the sake of privacy is something I haven't considered yet."
She apparently denied enmity between Wilde and herself ("That's how it is. Just an unfortunate issue," she said seemingly responding to the press coverage of their post-kiss interactions), and said, "I feel bad for Olivia, because she has had to suffer this situation on several occasions."
On the topic of privacy, and the lack of it that comes with fame, Ratajkowski said:
It's very bizarre to have certain experiences and then have the whole world know about them and comment on them. I'm just a person who's gone from a three-year relationship to a four-year relationship, so this is the first time in a long time that I've been in a dating stage. The interest there is in that particular area is very strange. Not that I'm surprised, but it's a tiny slice of my life. Most of my life is focused on my son and my work. But I guess these issues don't inspire the same flashy headlines. The invasion of private aspects is very hard for me. Now what is really starting to worry me is my son. It is complex to explain our relationship with the paparazzi. I don't want you to be afraid of them. But, at the same time, he has to know that they are not his friends. If something were to happen to him, they wouldn't run to protect him. I'm sure they'd take a picture before.
What this means for her and Styles went unexplained or was otherwise lost in translation.
---