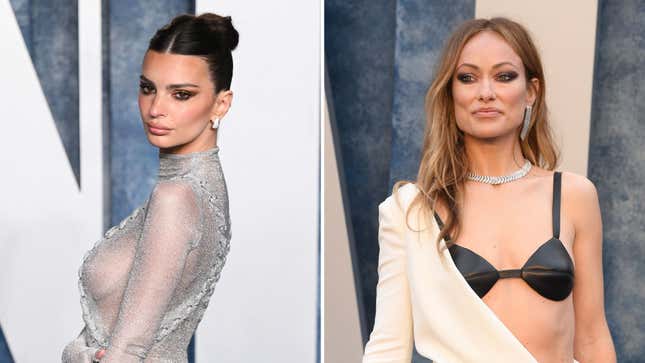 Gulp! That is not only the sound of Harry Styles (very) open-mouthed kissing Emily Ratajkowski in Tokyo, but also the sound of EmRata realizing that she hadn't fully thought through the consequences of that action.
Jennifer Hudson Achieves EGOT Status, is True American Idol
As you'll recall—if you are among the cursed who were forced to watch the video, please join me in therapy anytime—Styles and EmRata were caught "openly drooling all over each other" (Page Six's words, not mine!) over the weekend. Now, a "source" tells Page Six that Ratajkowski is "begging" for Harry's ex Olivia Wilde's forgiveness after the "betrayal."

Though I dread re-hashing the messy Don't Worry Darling drama, I fear the situation necessitates it. Here's the Spark Notes version: Wilde and Jason Sudeikis have two kids together, but they separated, and Wilde began seeing Styles, who was starring in her sophomore directorial effort. They dated for about two years, during which time there was hullabaloo over a Grey Poupon vinaigrette, a certain Miss Flo, and a public papers-serving event, to name just a few of the dustups. Harry and Olivia broke up in November.

Meanwhile, EmRata and Wilde were apparently friendly acquaintances, if not full-blown friends. Most recently, they were photographed at the Vanity Fair Oscars afterparty earlier this month, chillin' like two girls in The Girls' Room. They also danced side-by-side last June at one of Harry's concerts in Paris (though Page Six reports EmRata wasn't invited to the show by Wilde but by Sony, who produces her podcast High Low with Em Rata). Ratajkowski has also been publicly supportive of Wilde, telling Elle UK she felt "protective" of the director, who was skewered by press during her drama-filled DWD publicity campaign.
Whether or not Emrata is "begging" for anyone's forgiveness right now, Page Six's own super secret source said Wilde doesn't really give a fuck. "[Wilde] is staying far away from this and taking the high road," they added. "She is focused on her kids and her work…She wants nothing to do with this mess."
But tabloids gonna tabloid: Daily Mail, naturally, made a big fucking deal about Ratajkowski STEPPING OUT after the headlines to take 2-year-old son Sylvester to one of Tokyo's newest museums. Anotha one from Daily Mail: "Olivia Wilde swiftly exits LA gym as she emerges for the FIRST time since ex Harry Styles was caught in passionate clinch with Emily Ratajkowski in Tokyo." This, my friends, is what we call shit-stirring!

At the end of the day, EmRata has been vocal about codifying this season of her life as her "Bitch Era"—so much so that she named her production company after it. I guess that's on manifesting!
---