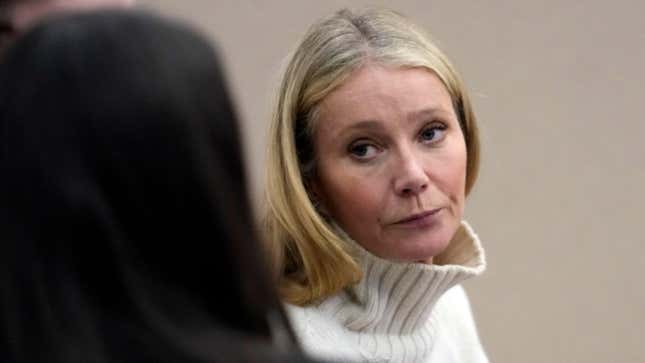 Believe it or not, there are serious claims at the center of Gwyneth Paltrow's ski trial: Terry Sanderson, a 76-year-old retired optometrist, alleges that the Goop founder and CEO and Academy Award winner crashed into him while skiing at the ultra exclusive Deer Valley Resort seven years ago. The collision, he says, culminated in severe injuries including brain trauma and broken ribs that have since damaged his quality of life. Unfortunately, anyone paying attention to what's been dubbed "the whitest trial of all time" has likely been just a little distracted by certain absurdities that include green juice, cashmere sweaters, and claims of being left "no longer charming" and unable to enjoy wine tastings.
Jennifer Hudson Achieves EGOT Status, is True American Idol
The proceedings officially began in Park City, Utah, on Tuesday and stem from a 2019 lawsuit filed by Sanderson against Paltrow for $3.1 million. He claims in court filings that she exhibited "negligence" by plowing into him, "knocking him down hard, knocking him out," while skiing with her family in 2016. Sanderson later changed the damages sought to a more conservative $300,000. One month after he filed the suit, Paltrow countersued Sanderson for a symbolic $1 (a la Taylor Swift), asserting that he was the one who'd crashed into her and was exploiting her fame and celebrity to get her to "pay him millions."
Sanderson's attorneys have called on medical professionals and asserted that their client has suffered in a myriad of ways—cognitively, behaviorally and interpersonally—since the collision. "Before this crash, Terry was a charming, outgoing, gregarious person," one of his attorneys, Lawrence D. Buhler, said during opening statements. "After the crash, he's no longer charming."
On Wednesday, radiologist Wendell Gibby testified that Sanderson showed the "typical hallmarks" of a brain injury consistent with being crashed into, and apparently that includes...a hindered ability to taste wine, among other more grave conditions.

"Terry had been a high-functioning, active person," Gibby testified. "Every day he was doing lots of things. Meeting groups, wine tasting, skiing, volunteering."
"After the accident, he deteriorated abruptly and many of the activities he loved to do, he stopped doing," he continued. Now, you might guffaw at the accusation, but if a woman who just equated bone broth with soup and peddles jade vagina eggs robbed me of my palate for Carlo Rossi, I too might take legal action.
More seriously, Gibby also testified that there were "abnormal findings" on Sanderson's chest X-ray and an MRI of his brain: "I don't think it was just a minor bump. He had enough force to knock him unconscious, enough force to break four of the ribs on the right side of his chest, and that, along with the deceleration of striking the ground, I think—the rib fractures corroborate that there was enough force to cause a head injury."
"Based upon the pattern of injuries here, he was struck from the left side and it forced him to the ground," he said. Under cross-examination, however, Gibby admitted that some abnormalities could very well have preceded the collision. Steve Owens, one of Paltrow's attorneys, countered that Sanderson has a history of neurological problems and has become "obsessed" with his case against Paltrow. Per emails following the collision, Sanderson allegedly boasted to his daughter that he was "famous."
Meanwhile, a woefully uninterested Paltrow has been reportedly sighing, drinking green juice, and texting in court, which...tracks. On Wednesday, Owens complained of cameras aimed at his client in the courtroom. Considering the proceedings are being live-streamed and reporters and national wire photographers are permitted in the courtroom, it's a bit of a tall order to presume they wouldn't be aimed at the only major celebrity present.
Naturally, the internet seems to be having a lot of fun at Paltrow's expense, likening her attire to that of a certain serial killer or a woman on trial for hiring a hitman to kill her husband. Frankly, I'd expect nothing less than turtlenecks and chunky gold jewelry from a woman who stands accused of negligence at a luxury ski resort in Utah.

The trial is anticipated to last two weeks. Testimony from Paltrow, her husband and two children, witnesses and medical experts are reportedly expected to come. As a person who has never once felt compelled to ski for the sole reason that some kind of accident seems inevitable whenever flat sticks are strapped to one's feet on the side of a steep icy mountain, I wish Mr. Sanderson the best of luck.