Donald Trump, a thin-skinned baby and the 45th President of the United States, is expected to sign a variety of horrifying executive orders that will restrict immigration from Iraq, Iran, Syria, Yemen, Sudan, Somalia and Libya and temporarily prevent refugees from entering the United States, making good on his various campaign promises to make America great again by using Islamophobia to shape policy.

CNN reports that the orders are expected to be signed Wednesday during a town hall at the Department of Homeland Security, as part of a "multi-day rollout" of his immigration policies. One of the executive orders will "temporarily restrict access to the United States for most refugees," Reuters reports, while another will refuse visas to immigrants from Iraq, Iran, Syria, Yemen, Sudan, Somalia and Libya. While it is not confirmed precisely what orders will be signed tomorrow, sources told Reuters that some of the other items on the table could include finishing work on a "biometric identification system for non-citizens entering and exiting the United States and a crackdown on immigrants fraudulently receiving government benefits."
What's not on the docket for Wednesday is the wall that Trump has been so fond of screaming about at rallies and such, though this tweet, which was likely sent while the President watched cable news on an enormous flat-screen TV in the Oval Office, seems to suggest otherwise.
Also absent from the list of horrible things set to happen Wednesday morning is any discussion of DACA, an initiative that prevents the deportation of hundreds of thousands of people who arrived in the United States as children. Sources told the Washington Post that the reason for this is because the various handlers, advisers and associates surrounding Trump can't quite agree on how this should be handled. Trump has vowed repeatedly to repeal DACA, but I suppose it's a small comfort that he hasn't gotten around to getting rid of that just yet.
G/O Media may get a commission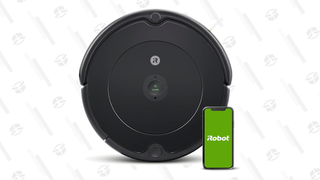 35% Off Black Friday Deal
iRobot Roomba 694 Robot Vacuum
Part of Wednesday's grim festivities will be the swearing in of Trump's pick for secretary of homeland security, Marine General John Kelly, a man whose views on illegal immigration have been described as "a little over the top" but still seems like a...fine choice, given the other terrors that lie within.
Update 11:18 pm: CNN reports that a White House official has confirmed that part of the executive orders being signed Wednesday will include the "directing [of] federal resources toward building a border wall." The administration seems to think that the wall can be constructed via existing law, including the Secure Fence Act, which is something the Trump administration discussed earlier this month prior to the inauguration. Great.