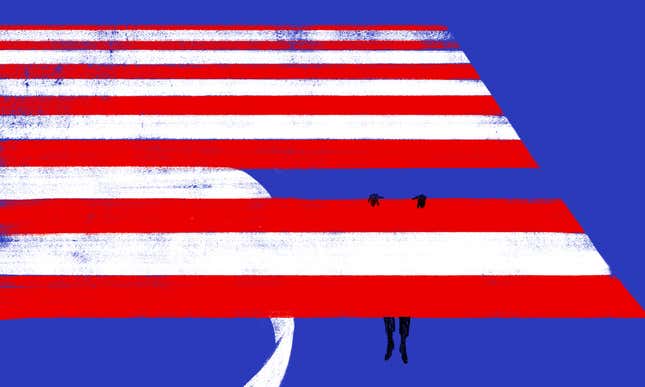 While the looming Trump presidency is bad news for everyone, it is particularly terrifying for the marginalized among us, including "probably two million" of the approximately 11 million undocumented immigrants currently living in the United States whom Trump vows to deport.
On the deliberately vague "Immigration Reform & Building The Wall" page of Trump's pre-presidential site, greatagain.gov, Trump promises to "cancel unconstitutional executive orders and enforce all immigration laws." One terrifying prospect among these is that Trump could, on his first day in office, sign an Executive Order repealing Deferred Action for Childhood Arrivals (DACA), a program that provides temporary legal status to immigrants who came to the country as children. Qualifying for DACA includes several requirements, like currently attending or having graduated from high school, or being an honorably discharged veteran; as well as not having a felony conviction, significant misdemeanor, or three or more misdemeanors. The dates by which one must have arrived are arbitrary—for instance, applicants must have been under the age of 31 as of June 15, 2012, and had no lawful status at that time; and arrived in the US before their 16th birthdays and resided here continuously since June 15, 2007. Immigrants who arrived at 17 years old are out of luck. The program is imperfect, but to date, DACA has allowed about 728,000 immigrants without previous documentation to work, study, and build lives in the United States. About 228,000 more children will age into eligibility for the program—if it remains.
In Santa Fe, New Mexico, 21-year-old Maria Santos and and 22-year-old Hali Calzadillas-Andjuo, both recipients of DACA, face an uncertain future. Santos came to the US when she was 18 months old and has a baby daughter, Jayleen, who is a citizen. Calzadillas-Andjuo arrived here 13 years ago.
"The morning after the election, the first thing that popped into my head was, I'm fucked," said Calzadillas-Andujo, who works at the United Way of Santa Fe County. "It was surreal. But I still got up and went to work, because that's what we do, even if shit happens. One of my coworkers has DACA too, and her baby's two years old. When we saw each other, we didn't say anything but burst into tears.
"I'm in school also, and I still went to class, because participation points count towards my GPA," she continued. "But I had that feeling you feel when you know something bad is going to happen but you can't really do anything about it. What I really hope is that I can finish my bachelor's degree before we have to go back. I'll be done May 13. Even if I go back to Mexico, that degree will serve me over there."
In the days after the election, Santos and Calzadillas-Andujo met with their lawyer, immigration attorney Allegra Love, who founded the nonprofit Santa Fe Dreamers Project to provide free legal representation to immigrant youth and their families. In the last three years, Love has processed about 1,000 DACA applications and currently has a caseload of about 300. On the morning after the election, Love was flooded with calls, emails, and visits from dozens of her clients. Because Trump's plans are vague and his rhetoric is volatile, Love isn't sure what to tell her clients especially those who have DACA.
"For the time being, we believe Trump when he says he's going to repeal DACA," Love told me one morning her office, a storefront overlooking a busy street and the campus of the neighboring Santa Fe Indian School. "He can repeal it with a signature, and he can do it on day one. There are questions about how it's going to unfold—will recipients get to wait for their DACA to expire, or will it immediately be cancelled? What are we going to do about cases that are pending? It gets even murkier when you start talking about deportations. But I don't have those answers right now. Nobody does."
Right now, there are about 1.3 million immigrants over the age of 15 who are eligible for deferred action, according to the nonpartisan Migration Policy Institute. The number of eligible applicants rises to 1.7 million when it includes immigrants who meet all requirements except for high school graduation or current school enrollment.
Santos was brought to the US as a toddler, and has no memory of Zacatecas, Mexico, where she was born. When Santos first moved to the US, she lived with her mother and several siblings in Iowa. But Santos's mother returned to Mexico 11 years ago when she developed serious health problems, knowing that without papers, she wouldn't be able to receive the care she needed. Santos remained in the US in part because she didn't yet speak or read Spanish—she hasn't seen her mother since—and was left in the care of her 16-year-old brother and 17-year-old sister. The three moved to New Mexico, where an aunt lived, and stayed with her for about a month until Santos' siblings, who had dropped out of school, had secured jobs. Then they were on their own.
"I was 10 years old, and I still remember it like it was yesterday," Santos said of the day her mother left. "For weeks, months, even, I didn't want to go to school. I fell into a depression because of it, and I was about to go back to Mexico to be with her for that reason. It was really hard. Until this day it's hard."
As Santos held Jayleen, who's just learning to walk, she began to cry as she talked about what the future might look like for her young family.
"It doesn't matter if they deport me, but I don't want [Jayleen] to be apart from me. I don't want her to feel all this chaos that's happening, even though she's so small," Santos said. "I just applied for a new job as a preschool teacher, and I'm scared that, because of how things are now, if I get the job it'll be for a couple months and then get fired... If [Trump] starts doing things like massive deportations, I'll leave voluntarily. I won't fight. I'm not going to suffer things like being in detention centers. Because that's what I don't want for her."
The consequences of someone who says undocumented immigrants "have to go" being in charge of a country built on them are far-reaching and devastating. Both Santos and Calzadillas-Andujo said that they were wary of law enforcement before the election, and now, they're even less likely to call the police if they're in trouble. If Calzadillas-Andujo loses her ability to work legally, she'll likely have to give up her apartment and her car (on which she's making payments) and she won't be able to send money to her parents in Kansas, where her father works on a farm.
"My dad is getting older, and he needs to stop working," she said. Calzadillas-Andujo's aging parents are undocumented and, as such, aren't eligible for benefits like Medicaid or Social Security. That means the burden of caring them falls to Calzadilla-Andjuo, which is the case in many families where children are DACA recipients and parents are undocumented.
"No one understands a damn thing about immigration in this country despite the fact that everyone seems to have a really strong opinion about it," Love said. "If asked to articulate why Maria and Hali can work, and why another person can't, or who's deportable… I didn't understand it 'till I went to law school. People need to take responsibility for understanding what they're talking about, and us advocates need to take responsibility for communicating that to people in a way they can understand. But it's a two-way street, and it's not going to come in a tweet."
Part of learning about immigration includes dissecting the reasons people migrate, which often have less to do with a brazen desire to break the law and more to do with physical safety, food security, and being with one's family. Love noted that if DACA is repealed, her office will begin to try to shift those cases into some other type of immigration relief, like U-Visas, which are granted to immigrants who've been the victims of certain crimes.
"A funny thing is, sometimes I wish some violent crime had occurred to me, so I could get some type of immigration relief," Santos said. "Sometimes my husband and I joke, hit me, so I can get papers."
Immigrants who are or will be eligible for DACA can find comprehensive and up-to-date information at United We Dream, a national network for DACA recipients and hopefuls. Some organizations, like the National Immigration Law Center, advise against submitting new applications for DACA, because it's uncertain what the Trump administration will do with the information on the applications, plus the application fee is $465, and non-refundable if the program is terminated. Applications for renewal of DACA are less risky because immigration authorities already have the recipient's information.

The Catholic Legal Immigration Network Inc. has fact sheets available in both English and Spanish about how to prepare for the coming administration, including state-by-state legal directories and a section about knowing one's rights when interacting with immigration agents.
For those of us who are documented, participating in rallies and community forums, or volunteering at a community organization—even one that isn't specifically geared towards immigrants, like a food bank or a shelter—is important in building a sense of community. Donating even small sums money to local organizations is important, too, because they often need the funding as much (or more) than national organizations, which usually have publicity and marketing departments at their disposal.
Additionally, read up on immigration policy and how immigrants are contributing to our country. The Immigration Advocates Network website is a wealth of information and has a page that allows visitors to search by zip codefor for nonprofits that work with immigrants in your area. The website is also a good resource for immigrants themselves—Love notes that finding local services in one's area is the most effective way to receive help. Citizens with special skills are especially needed right now: attorneys to help handle caseloads, mental health professionals who can counsel those who are feeling frightened and alone and in some cases, suicidal, and people who are bilingual to help translate.
"Showing up is really important," Calzadillas-Andujo said. "I see a lot of people passing articles and posting stuff on Facebook, like 'you'll be okay' which doesn't really help. A lot of people don't understand the fear because they're not in that place. They're citizens, or they've gotten a green card. Even our own people, who have forgotten what it feels like to live in fear. There needs to be more space for those feelings, to process them, instead of shooing them off and telling people they'll be okay."
Adele Oliveira is a freelance writer in Santa Fe, New Mexico.