Welcome to Barf Bag, a daily politics roundup to help you sort through the chaotic Trumpian news cycle.

I forgot what it felt like to smile, but today, I remembered.
Here's all the shit we couldn't cover today:
We all know the GOP replacement to the Affordable Care Act was snuffed out of existence this afternoon in a glorious fart of incompetence. What you might not know is how Trump called "fake news" Washington Post reporter Robert Costa on the phone to tell him he had pulled the bill before Republicans even knew they wouldn't be voting. "We couldn't get one Democratic vote and we were a little bit shy, very little, but it was still a little bit shy, so we pulled it," he said. If that's how you want to remember it, my friend. [Washington Post]
Paul Manafort, the former Trump campaign manager known for his work on behalf of Russian interests and for probably not leaving the Trump campaign when he said he did, has volunteered to testify in front of the House Intelligence Panel regarding Russia's influence in the election. One thing is for certain: he will either tell the truth or he won't. [New York Times]
The Republican National Committee reportedly made several payments totaling $41,500 to the Hamilton Trading Group, a firm started by retired CIA officers, in the summer of 2016. The majority of these payments went towards "intelligence-style reports" that aimed to find conflicts of interest between Hillary Clinton's term as Secretary of State and the Clinton Foundation. [Politico]

Treasury Secretary Steve Mnuchin, meanwhile, seems to be on another planet. In an interview today, he said that the idea of artificial intelligence supplanting human jobs is "not even on our radar screen... 50-100 more years away." Has my dude ever been to a grocery store? He also said, for what it's worth, that Trump has "perfect genes." [Axios]
Robert Mercer, the hedge fund tycoon known for heavily funding the Trump campaign, seems to also own and support a Beverly Hills production company that funds "alt-right provocateur" (read: racist fuckwit) Milo Yiannopoulos' speaking tour. [MuckRock]
Sen. John McCain hasn't met with Donald Trump since he's been president. Weird! [Twitter]
Here are some tweets that the president was allowed to publish:
G/O Media may get a commission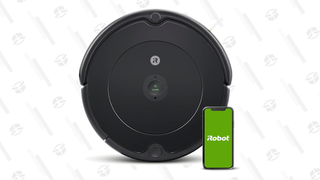 35% Off Black Friday Deal
iRobot Roomba 694 Robot Vacuum
This has been Barf Bag.