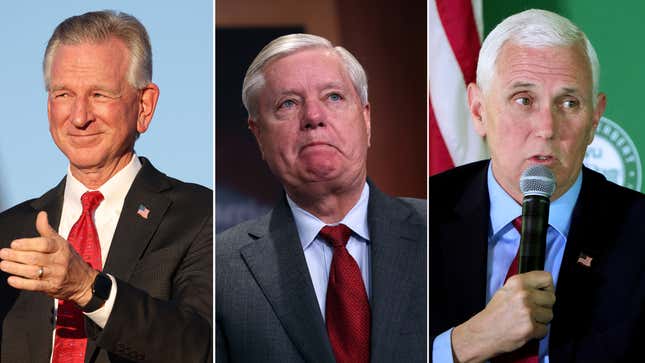 With Tuesday came a New York jury's ruling that former president Donald Trump is civilly liable for the sexual abuse and defamation of writer E. Jean Carroll, who alleges that Trump assaulted her in the dressing room of a Bergdorf Goodman in the 1990s. The jury determined that Trump owes Carroll $5 million in compensatory and punitive damages for painting her as a lying quack he's never met.

Trump was, as ever, quick to respond, characterizing the ruling as merely a "CONTINUATION OF THE GREATEST WITCH HUNT OF ALL TIME!" And, even as he now faces new allegations of sexual harassment toward female employees from when he was still in the White House, top Republicans have loyally stood by him and his campaign to be president again in 2024. Alabama's Sen. Tommy Tuberville (R) went so far as to say the ruling only makes him want to "vote for [Trump] twice." Cool!
Let us gawk at the range of sad and sadly funny ways Republican politicians reacted to verdict, from defending the former president to saying they simply had no idea what sexual abuse case reporters were talking about.