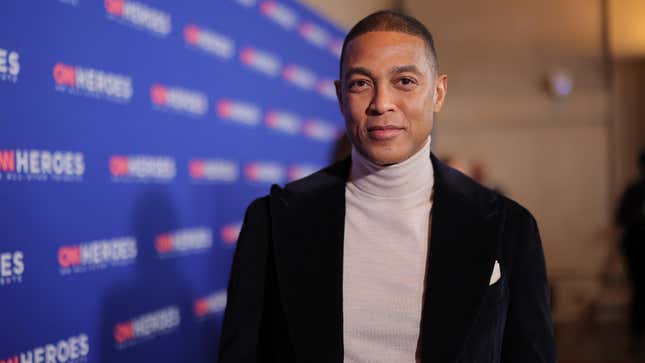 In February, CNN briefly pulled anchor Don Lemon from his This Morning slot after he made sexist comments characterizing Republican presidential candidate Nikki Haley, 51, as "past her prime." He returned days later and, without addressing the controversy on-air, his show proceeded business as usual.

But the plot has now thickened: In a lengthy report published on Wednesday, Variety talked to more than a dozen of Lemon's former and current CNN coworkers about his alleged history of sexist behavior and disrespect for female colleagues—including sending a series of threatening messages to a former co-anchor in 2008 that resulted in an HR investigation. Lemon reportedly wasn't assigned to work with female co-anchors for over a decade after the alleged incident. And noticeably buried in Variety's report is Lemon's alleged, long-term relationship with a 22-year-old employee around 15 years ago when he was 41. Per the outlet:
[Lemon] began openly dating a fresh-out-of-college staffer despite a major age difference and power imbalance… The ambitious anchor, who is gay, was not out of the closet at the time, but wasn't hiding it either. The pair would drive to work together in Lemon's car and began a long-term open relationship. Dating a junior employee was frowned upon at the time. "As fast as you could make a rule, Don would bend it," says one senior executive at the time.
The 2000s were certainly a different, pre-MeToo era, but dating a lower-ranking employee with a "major power imbalance" sounds pretty eyebrow-raising. Of course, he didn't face any consequences for that, nor for the concerning texts from an unknown number sent to Kyra Phillips, Lemon's former co-anchor who received a promotion over him, in 2008, after the texts were reportedly traced to him. One of them read: "Now you've crossed the line, and you're going to pay for it." Of the alleged incident and the HR investigation it sparked, CNN said in a statement to Variety, "Don says the alleged incident never occurred and that he was never notified of any investigation. CNN cannot corroborate the alleged events from 15 years ago."
Sources told Variety that shortly after Phillips' promotion, Lemon responded "by tearing up pictures and notes on top of and inside Phillips' desk in the news pod they shared." Around the same time that all of this took place, Lemon also reportedly got into it with another female colleague, making offensive comments on a staff call questioning Soledad O'Brien's Blackness after she was tapped to host CNN's Black in America docuseries. "Don has long had a habit of saying idiotic and inaccurate things, so it sounds pretty on brand for him," O'Brien told Variety for its Wednesday report.
Lemon's alleged problematic behaviors extend past his treatment of colleagues. In 2016, Lemon reportedly had former CNN consultant Goldie Taylor banned from the network for her criticisms of his racist comments telling Black men to "pull up your pants" if they wanted to be treated with respect. More recently, just last September, Lemon asked fellow panelist S.E. Cupp if she was suffering from "mommy brain" when she forgot part of what she was going to say on-air.
"I'm never surprised when Don gets in trouble," Taylor told Variety. "It makes me neither happy nor sad to see him undermine his own success. There was a time when it appeared that Black people were most often the subject of his ire. Now, it seems to me that when he says something offensive, there's almost always a woman on the other side."
The Variety report suggests that, according to Lemon's current and former colleagues, he's long skirted accountability thanks to his close relationships with higher-ups at the network. But since Lemon's misogynistic comments about Haley earlier this year, prompting CNN to require him to undergo "formal training," he's under more scrutiny than ever. Variety's report hardly paints a flattering image of the anchor, his alleged history of disrespecting female co-workers, and his questionable workplace conduct that allegedly included a relationship with a much younger junior staffer.
Broadcast news feels like an increasingly antiquated industry, as CNN's ratings tank and Fox News thrives on force-feeding culture war propaganda to an almost exclusively geriatric audience. As CNN desperately tries to improve its ratings ahead of a crucial election year, a part of the necessary overhaul for the network to grow might just be reckoning with the behaviors it seems to enable among its stars.