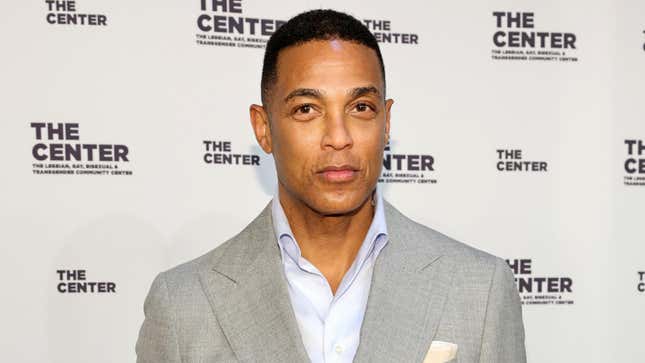 Within roughly an hour of the bombshell news that Tucker Carlson is out at Fox, Don Lemon, accused workplace misogynist, was fired by CNN on Monday. Lemon tweeted the news on Monday afternoon. "I am stunned," Lemon wrote.
"After 17 years at CNN I would have thought that someone in management would have had the decency to tell me directly," Lemon wrote in his statement, adding that his agent informed him of his termination.
Earlier this month, Lemon was revealed to be a pretty shitty guy to work with. No, he doesn't seem to have committed sexual crimes against co-workers, but Variety talked to more than a dozen of the longtime anchor's former and current coworkers about accusations of Lemon's sexist behavior and disrespect. He's also accused of having a longterm relationship with a 22-year-old employee just out of college when Lemon was 41, and pretty powerful at the network. More recently, Lemon pivoted to on-air misogyny by asking conservative pundit S.E. Cupp if she had "mommy brain" when she lost her train of thought and saying 51-year-old Republican presidential candidate Nikki Haley was "past her prime."
Despite these recent dust-ups, Lemon said he expected to continue with the network. "At no time was I ever given any indication that I would not be able to continue to do the work I have loved at the network. It is clear that there are some larger issues at play," he said in his Monday statement. "With that said, I want to thank my colleagues and the many teams I have worked with for an incredible run. They are the most talented journalists in the business, and I wish them all the best."
The only humor I can find in the entire situation is that instead of opting for the typical Notes app mea culpa/announcement/apology formatting, Lemon appears to have screenshotted his statement from the iPhone Mail app (and there is no consistency between one or two spaces after every period??).
In a game of dueling tweets, CNN PR has released two statements.
First, the corporate new giant said: "CNN and Don have parted ways. Don will forever be a part of the CNN family, and we thank him for his contributions over the past 17 years. We wish him well and will be cheering him on in his future endeavors."
Within an hour, this statement was released: "Don Lemon's statement about this morning's events is inaccurate. He was offered an opportunity to meet with management but instead released a statement on Twitter."
Adieu to Lemon, adieu to Carlson...MSNBC anchors must be shaking in their boots today.