"Heck jeah," a contrite and newly brunette Ryan Lochte whispers quietly to an empty room. "I know how to make America love me again. I'm going to be on Dancing With The Stars."

USA Today reports that the swimmer will indeed be appearing on the upcoming season of the show, in a deal that was apparently settled before he went to Rio, fabricated a story about being robbed at gunpoint and disgraced himself on an international stage.

The full cast of Dancing With the Stars will be announced on August 30, in an exclusive on Good Morning America, but rumors have also been flying that Amber Rose will be taking part as well. The amount of secrecy and breathless speculation surrounding this relatively trivial bit of casting information is frankly, insane, but I guess they know what they're doing over there. Also, people love this show for reasons beyond my ken. Why?! It's just stars, dancing with real dancers. Ryan Lochte probably won't be very good, anyway, and all this is going to do is help America forget that he was a big dummy who thought he could get away with mealy-mouthed apologies about "language barriers" when what he actually did was rest on the fact that people would believe whatever he said because he's sort of handsome, sometimes.
Anyway! The timing of this news looks like a happy accident for Lochte, who desperately needs something to climb out of the large hole he's dug himself simply by being a jackass. Four sponsors, including Speedo and Polo Ralph Lauren have dropped the swimmer, but for some reason (ratings), Dancing With the Stars is standing by their man.
In an interview with People Lochte said of the incident, "I've been thinking about it a lot, because I have a big heart, and I feel like let down a lot of people... I feel bad that I have let people down."
G/O Media may get a commission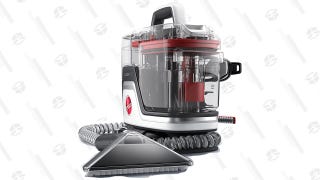 Save $10
Hoover CleanSlate Plus Carpet & Upholstery Cleaner
The road to redemption in the eyes of the American public is paved with foxtrots set to bad orchestral arrangements of Ariana Grande songs, I guess.