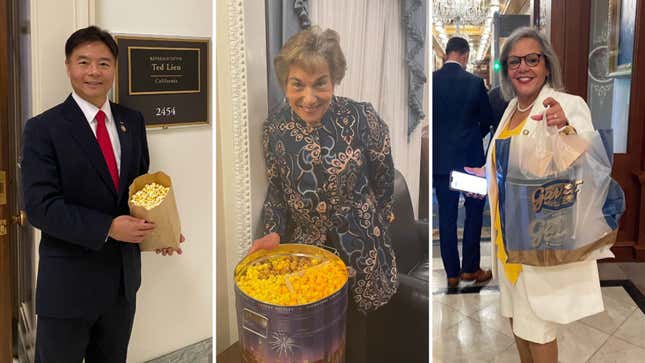 Tuesday kicked off the first day of the new Congress, and it did not go well. House Republicans spent the morning melting down and calling each other names and ultimately ended the day failing to elect a new speaker.
There wasn't much for Democrats to do besides hang tight in the chamber, since the House can't function at all without a speaker—if they were to leave, they risked lowering the threshold of votes that Republican frontrunner Rep. Kevin McCarthy (Calif.) needs to secure victory. So they brought their (literal) popcorn, took selfies, made jokes, and just generally reveled in the schadenfreude of it all.
"I've got my popcorn ready," tweeted Rep. Robin Kelly (D-Ill.).
Kelly's Illinois colleague, Rep. Jan Schakowsky, brought a three-flavored popcorn bucket—objectively the best kind— to the House floor.
New York's Grace Meng and California's Ted Lieu also joined in on the popcorn bit.
Meanwhile, former House Speaker Rep. Nancy Pelosi (Calif.) blew a kiss to the Democrats' new minority leader, Hakeem Jeffries (N.Y.), after the caucus unanimously voted him in and gave him a standing ovation. House Dems posted many a trolly photo of themselves smiling and laughing, and Rep. Tony Cardeñas (Calif.) tweeted a cheeky joke about how long it's going to take Republicans to pick a damn leader.
"Today Madam Clerk, House Democrats are united," Rep. Pete Aguilar said with a giant grin on the House floor, prompting cheers from his colleagues.
Democrats repeatedly voted for Jeffries as Republicans duked it out. McCarthy, after three votes, was unable to get the consensus he needed to win the speakership, and the House adjourned until Wednesday morning—marking the first time in a century the chamber has failed to elect a speaker on its first vote.
Are Democrats being childish? Yes. Is it still funny that they brought popcorn to this clown show? Yes. Is it terrifying that Republicans are supposed to lead this massively important political body, but can't even get their own shit together? Absolutely. The American political system contains multitudes.