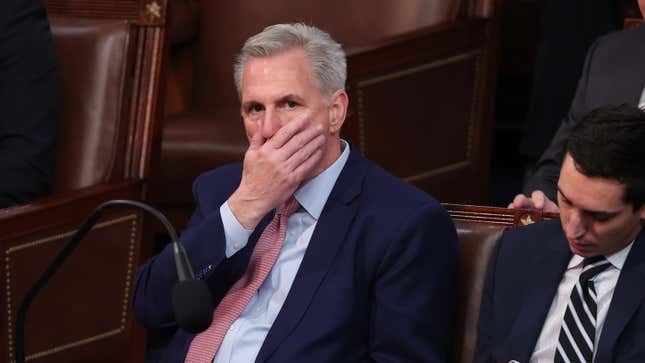 Today, for the first time in exactly 100 years, the party controlling the House of Representatives failed to elect a speaker in the first round of voting. By publication time, Rep. Kevin McCarthy (R-CA) lost not one, not two, but three votes, as Republicans bickered like a bunch of grade-schoolers.
Anita Hill, Like Many of Us, Thinks Clarence Thomas is Full of Sh*t
Let us explain what went down, for those who had better things to do (not me!) than scroll Twitter.
What was supposed to happen to today?
McCarthy was seeking the 218 votes needed to control the House, which has 435 members. Republicans won 222 seats in the midterms, meaning McCarthy could lose just four votes from his colleagues. He was never expected to win the first ballot due to opposition from far-right lawmakers like Rep. Lauren Boebert (R-CO) and Rep. Matt Gaetz (R-FL), but people thought he might get enough support on successive rounds of voting. McCarthy was confident enough that he moved all of his stuff into the Speaker's office before the vote.
What happened to Kevin McCarthy?
He ate a whole bunch of shit. McCarthy only got 203 votes on the first and second ballot, losing 19 members each time. The third round was even more embarrassing: One Congressman who voted for McCarthy the first two times defected, bringing him down to 202 votes, which is...not how this was supposed to go. If someone were consolidating support after initial protest votes, their vote share would increase, not decrease. The defector was Rep. Byron Donalds (R-FL):
Twenty House Republicans voted for alleged sex abuse enabler Rep. Jim Jordan (R-OH), who said he doesn't want the job and who voted for McCarthy in the second round.
After that round, Rep. Tom Cole (R-OK) proposed a motion to adjourn for the day, which passed.
So, no Speaker. What happens now?
The House will reconvene at 12 p.m. on Wednesday for more voting. The last time this happened—which, again, was in 1923—it took three days and nine votes to declare a winner, according to MSNBC political correspondent and Chart Bae Steve Kornacki:
Are Republicans going to keep holding fruitless votes for Kevin?
Maybe not. Before the failed third vote, CNN reported: "Another Republican who is backing McCarthy predicted there will be pressure after three or four rounds of votes to either adjourn or start thinking about another strategy." CNN's Manu Raju wrote on Twitter that Minority Whip Steve Scalise (R-LA) might enter the race if McCarthy drops out—though that is something McCarthy said he wouldn't do.
Drama!
Any other good goss today?
Yes. CNN reports: "A GOP lawmaker who is supporting House GOP Leader Kevin McCarthy says members are already hearing from Republican donors and constituents who think the party 'looks stupid' for not being able to elect a speaker." Curious who thought the party only started looking stupid today, but I digress.
Also, please enjoy this photo of admitted liar, Rep.-elect George Santos (R-NY), sitting by himself:
Not gossip, but a good burn from Sen. Patty Murray (D-WA):
See you freaks back here tomorrow!