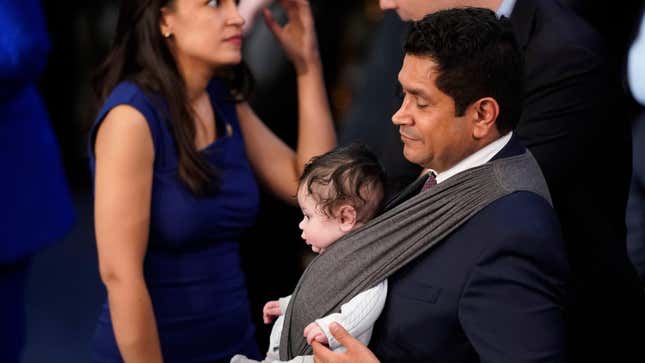 For the past week, the country has slogged through this embarrassing student-council-ass process more formally known as the House Speaker election. We've complained online! We've learned the names of previously unknown congresspeople! Congressional dads have brought their literal babies to the House floor! Wait, what was that?
Yes, you read that correctly: U.S. Congressmen are finally stepping up and showing it is possible for men to actively parent while doing their jobs, which in this case (for the Democrats, at least) is voting for Rep. Hakeem Jeffries (D-NY) over and over and over and over and over and over and over and over and over and over and over and over and over.
Rep. Jimmy Gomez (D-CA) is the biggest parental poster of the 118th Congress. Gomez said that he's been planning to bring his son Hodge, who is four months old, to the House floor since before he was born. "I was doing it because I wanted to have Hodge there and I wanted to show him off," Gomez told Today. "He's my son and I'm proud of him. Hopefully I won't be the last member to babywear on the floor or to babywear and vote."
Infants weren't actually allowed on the House floor until 2018 after the Senate Rules committee finally changed the rules when Sen. Tammy Duckworth gave birth while in office. Duckworth was the first Senator to cast a vote with her infant in her arms in April 2018.
Gomez brought Hodge on the floor so he could stick to Hodge's strict routine, something all newborn parents know well. "His feedings are at 7 in the morning, then four hours later at 11, then again at 3, then at 7 o'clock at night," Gomez told Today. "He's an alarm clock. At three hours he starts getting fussy and cranky, and that's when you have to keep him occupied because once he gets to three and a half hours, that's when he gets really upset."
Seeing multiple men, including Rep. Joaquin Castro (D-TX), bring their children into Congress is such a refreshing change from the rah-rah content about women doing it all while in government. It's great that women are finding greater freedom to parent while on the job, but the bigger hurdle is that parenting is never seen as a man's first job when they're in a hetero relationship. Instead, their careers are seen as more important than taking care of a baby. It's great to see Gomez specifically acknowledge that there is a way to be an active parent and an active public servant—to remove the stigma and shame from being a working mom or dad.
Gomez and Hodge were still in D.C. on Thursday, even though Gomez's family (including his wife) had to return home. "Hodge & I are just gonna figure this out like the rest of the working parents in America. Life goes on, people can't just wait around for the @GOP to get their act together," Gomez tweeted.
An equitable Congress would recognize that free childcare is a human right. That parents should be able to go to a job with their child, or at least know their child is being lovingly cared for. It would recognize that barriers to childcare, like the outrageous costs, are an actual constituent need that should be addressed by lawmakers. It would recognize that the child tax credit system that briefly lifted millions of children out of poverty should be made permanent so that the working parents Gomez talked about have regular and tangible financial support by their government.
I see Gomez and other men bringing their children to Congress as a step on that road to equity. By Friday, Hodge was back at the office, getting to witness McCarthy lose his 12th and 13th Speaker votes. What a fun way to start off your li'l life!