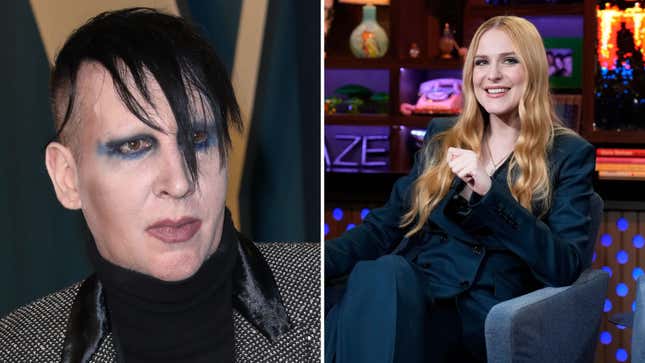 On Tuesday, the Superior Court of California favored actress and activist Evan Rachel Wood in a tentative ruling in an ongoing defamation case levied against her by her alleged abuser and ex-partner, Marilyn Manson (née Brian Warner).

Taylor Swift's Rep Thinks You Need to Calm Down About Her Private Jet
The Court's decision has effectively struck down 10 of Warner's objections to Wood's anti-SLAPP motion to dismiss his defamation case against her. Among them are his claims that she forged an FBI letter and "recruited" other women, with the aid of checklist and script, to accuse him of sexual assault and abuse. California's anti-SLAPP statute functions as a safeguard for individuals exercising their First Amendment speech rights—notably, domestic violence survivors, who all too often become targets for defamation suits.
Warner filed the defamation lawsuit in early 2022, as Wood's two-part HBO documentary, Phoenix Rising, which detailed his alleged abuse against several women, premiered at film festivals throughout the country. In his filing against Wood and her partner and collaborator, Illma Gore, Warner claimed they pressured his accusers into coming forward and even impersonated him to hack into his computer and social media accounts. Both women have vehemently denied his allegations.
While Wood and Gore were at first joined by a chorus of more than a dozen women alleging a whole host of physical, sexual, and psychological abuse perpetrated by Warner, two vocal accusers have since settled with Warner out of court or recanted their accounts. In January 2023, Warner's ex-partner Esme Bianco settled with him via an undisclosed agreement a little over two years after she sued him for rape and sexual battery. Bianco, via her suit, claimed that during their relationship he "used drugs, force and threats of force" to rape and commit "sexual acts" with her while she was unconscious or unable to consent.
Only weeks earlier, another accuser and former partner of Warner, Ashley Morgan Smithline, abruptly stopped pursuing sexual abuse charges against him. A California judge tossed out Smithline's lawsuit after she failed to replace her former legal counsel. In December 2022, after her attorney filed a motion to withdraw himself from the case, Smithline was advised to find new representation. Curiously, she never did. The following month, she then recanted her allegations.
"I succumbed to pressure from Evan Rachel Wood and her associates to make accusations of rape and assault against [Manson] that were not true," Smithline told People.
Immediately, Wood responded: "I never pressured or manipulated Ashley Morgan Smithline to make any accusations against Plaintiff Brian Warner, and I certainly never pressured or manipulated her to make accusations that were not true," Wood asserted in a February filing in Los Angeles Superior Court.
Though it's quite likely Wood and Gore will still face Warner in a trial, this recent ruling is certainly a victory. Representatives for Wood and Warner did not immediately respond to a request for comment.