In a chaotic move that I deeply respect, Lizzo has drunkenly slid into Chris Evans's Instagram DMs to shoot her shot.
On Saturday, Lizzo posted a TikTok that included a screenshot of the DM, which consisted solely of a string of emojis: the dash emoji, the woman-playing-handball emoji, and the basketball emoji. (Get it? Shooting...her...shot!) She sent it at 5:22 p.m.
"Don't drink and DM, kids," Lizzo wrote in the TikTok caption. "For legal porpoises this is a joke."
"The reason I'm upset about this one is because I know I'm not gonna be able to marry him, and honestly, it hurts me to the core," Lizzo mouths in the video, lip-synching to audio by TikTok star Tatayanna Mitchell. "Because damn papa, he a rare breed, no comparing. Like, Chris—"
Chris Evans, if you're reading this, I feel it's imperative that you respond to Lizzo's message posthaste.
G/O Media may get a commission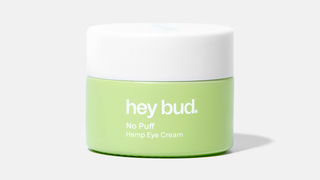 15% off
Hey Bud - No Puff Hemp Eye Cream
---
POV: You're FaceTiming your parents:
---
Demi Lovato called out an L.A. froyo shop for advertising its sugar-free and gluten-free options at the front of the store. From what I can tell, she compromised with the store via Instagram DM, suggesting that these flavors instead be labeled according to the groups they're intended for, like vegans, diabetics, or people with Celiac disease. Speaking as someone who's sensitive to these things, it doesn't seem immediately clear to me that offering sugar-free and gluten-free foods is food shaming or even necessarily participating explicitly in diet culture. Personally, I would wait for a different hill to die on. [TMZ]
The Loughlin-Giannulli household has officially completed its collective jail time for the college admissions scandal. [People]
A source tells Page Six that Kanye West is "super annoyed" that it looks like Kim Kardashian is divorcing him and not the other way around. That's the power of Kris Jenner, baby! [Page Six]
Update, 12:53 a.m. EST: Chris Evans has responded (and charmingly referenced his accidental dick pick self-leak on Instagram in September). My work here is done: