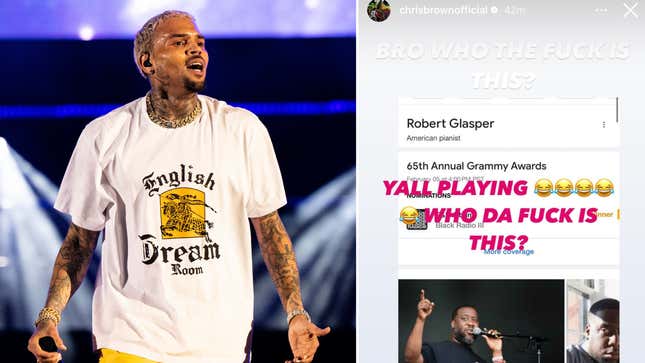 You may be shocked to hear this, but alleged serial rapist Chris Brown appears to be a pretty sore loser.
Shortly after losing Best R&B Album to famed pianist Robert Glasper, Brown's Instagram stories blew up in a series of cartoonishly childish posts mocking Glasper and lashing out at the Recording Academy for supposedly snubbing him.

In one post, Brown captions a photo of Glasper, "Yall playing. Who da fuck is this?" In others, he writes, "Ima keep kicking yall ass! Respectfully," (cool!) and "jokes" about how maybe he should learn to play the harmonica to be recognized like Glasper was. This man is 33-years-old, mind you, and as many have already pointed out, this is hardly his first time losing: He has only one Grammy win out of 20 nominations, so taking out his frustration on Glasper when, as one Twitter user put it, "them 19 Ls are the real enemy," seems… misplaced.
In any case, while we're all forced to talk about Brown against our will, I should point out that his meltdown and the many questions he asked—namely, "who the fuck is Robert Glasper?"—raise questions of their own. Specifically: Why was Brown nominated for a Grammy at all? I don't expect much of the show at this point; the same night Brown complained about being snubbed, Dave Chappelle won Best Comedy Album for his special, The Closer, an hour of anti-trans jokes brandishing his bizarre fixation on trans women's genitals. But just last year, Brown was accused of drugging and raping a woman on a yacht in Miami. Before that, he allegedly punched a woman in the face in 2016 and was accused of raping a woman in Paris in 2019. His ex-girlfriend Karrueche Tran won a five-year restraining order against Brown in 2017 over his harassing, threatening messages sent to her. And, perhaps most famously, he violently beat ex-girlfriend Rihanna in 2009.
G/O Media may get a commission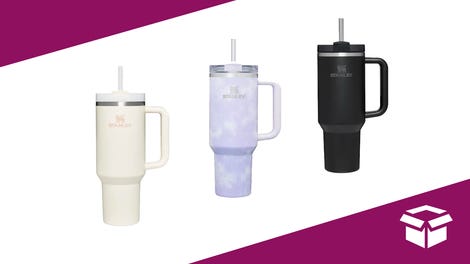 Up to 45% off
Stanley Cup Sale
All of these allegations are the tip of the iceberg that is Brown's storied track record of mistreating and attacking women. That Brown created merch mocking the women who say he assaulted them, selling t-shirts that said "That Bitch Lyin" shortly after the 2019 rape allegation in Paris for $38, speaks for itself.
Chastising institutions like the Recording Academy, or really any of the other groups and entertainment industry leaders behind awards like the Grammys, for failing to live up to their MeToo-era promises is like beating a dead horse at this point. In November, Kelly Rowland accepted the favorite male R&B artist award at the American Music Awards on Brown's behalf and defended him in a vague, meaningless rant about how we all deserve "forgiveness" and "grace"—apparently, even when we haven't apologized, and instead sold t-shirts mocking our alleged victims! Before that, last summer, Johnny Depp inexplicably made a surprise cameo at the VMAs, just months after we learned of a series of gutting revelations about his alleged violence toward ex-wife Amber Heard. More recently, Brad Pitt was the darling of the Golden Globes, despite allegedly assaulting ex-wife Angelina Jolie and their kids on a plane.
And yet, the allegations against Brown are so unsettling and extensive that I'm somehow still shocked that he was nominated for Best R&B Album at all, and no one seemed to even bat an eye. Maybe this temper tantrum will be the final nail in the coffin??