As the preparations for the inauguration —otherwise known as Hell— get underway in our nation's capital, elsewhere, protestors are preparing to show up and show out. And, at New York City's United We Stand United rally in front of Trump Tower Thursday, my favorite politically-minded celebrity Cher made an appearance, starting off by calling herself an "elitist lib-tard" before launching into a speech that lit into Donald Trump with vim and vigor.

Mark Ruffalo, Shailene Woodley, Alec Baldwin in Trump drag and Robert DeNiro were just a few of the famous people present at the event, Entertainment Weekly reports, and I'm sure their speeches were lovely, but I'm sorry, I only have eyes and ears for Cherilyn Sarkisian.
"I have been accused by these people of being so many things," Cher told the crowd, "but I understand how the people were so desperate to pick this man, this unbelievable narcissist who could change the face of our world if we let him. The only thing that will save us is you. The only thing that can save us is you."
While it's true that whatever we're about to face will be pretty fucking bad, Cher's here to remind us all that hey, she's seen some shit — 12 presidents and the Vietnam war—and the only way we're going to get through this is to stay mad.
"Never once did I dream that there would be one through arrogance and ignorance, who could change our world, who could change the face of our world. … I know you can stop this. I know you can stop this, because the power of the people is bigger than those a–holes that are there in Washington. I tried not to have a potty mouth, but it's just me, okay? You must never give up, because the thing that will help us, that will get us through this is anger. Otherwise, we'll be in sadness and depression."
G/O Media may get a commission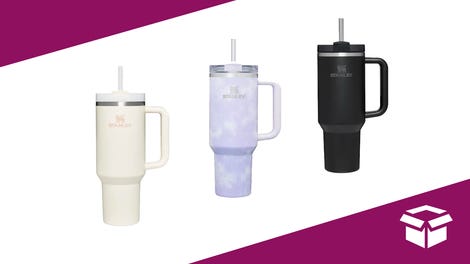 Up to 45% off
Stanley Cup Sale
There are many, many other celebrities whose opinions you certainly agree with when it comes to politics, but no one is as expressive, vibrant and addicted to both excessive emoji use and the caps lock key as Cher. Please ignore everyone else and focus only on Cher. She's a treat.
I know that last tweet has nothing to do with politics and everything to do with her nomination for an award that doesn't really carry any weight, but she tweets in rebuses and "Emoji like a Tween." Honestly, I ask you, what's not to love?