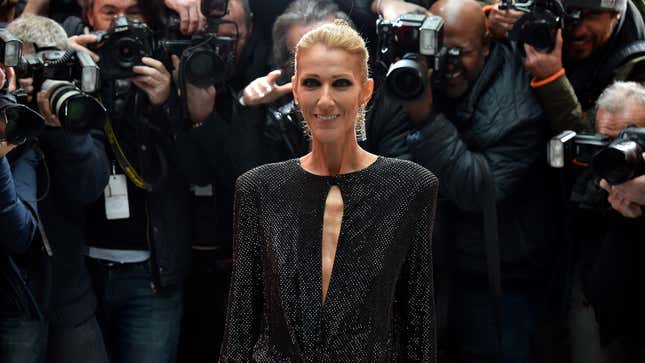 Sad news out of Vegas by way of French Canada: Celine Dion's sister Claudette Dion has given an interview on the state of the pop singer's health following her December announcement of her stiff person syndrome diagnosis, which has postponed Dion's tour plans indefinitely. The condition has no cure and is characterized by muscle rigidity and a sensitivity to stimuli, according to the NIH.
In an interview with Hello! Canada, Claudette provided a description of her sister's current condition. "It's an illness we know so little about," she said. "There are spasms – they're impossible to control. You know who people often jump up in the night because of a cramp in the leg or the calf? It's a bit like that, but in all muscles. There's little we can do to support her, to alleviate her pain."
While Claudette says Celine is "doing everything to recover," it would seem as though only so much can be done, and so the family is "crossing our fingers that researchers will find a remedy for this awful illness." Nonetheless, Claudette said that Celine has "'a great team of doctors' and a sports-medicine therapist to build back her strength." During an appearance on French-Canadian television in July, Claudette revealed that her sister Linda had moved into Celine's Las Vegas mansion to help care for the singer. "When I call her and she's busy, I speak to my sister Linda who lives with her and tells me that she's working hard. She's listening to the top researchers in the field of this rare disease as much as possible," Claudette said (in French). If anyone has the drive (and means) to beat this thing—whatever that means—it's Celine.
To cleanse the palate of its sadness, here is a picture of Celine Dion kissing a hamburger-clad Katy Perry at the Met Gala afterparty in 2019: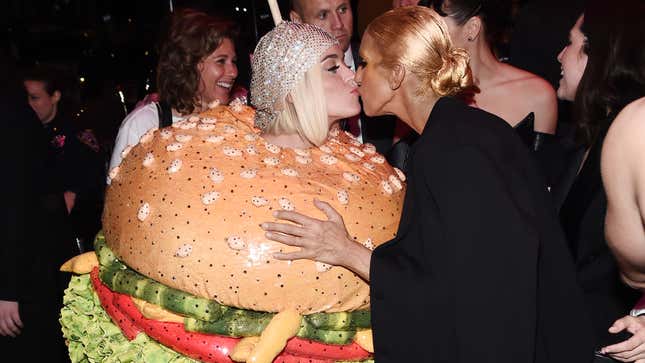 ---