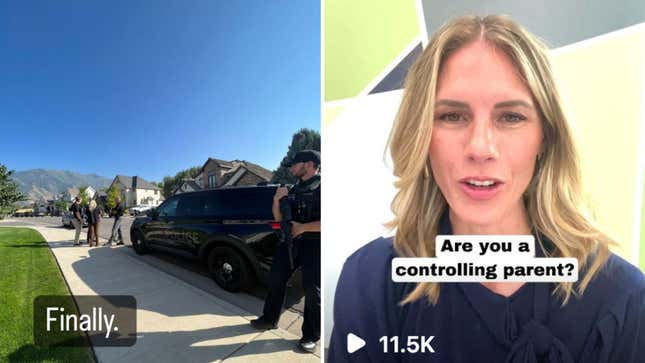 Ruby Franke, the matriarch of the famous Youtube family channel "8 Passengers," was arrested on two counts of aggravated child abuse in Washington County, Utah, Wednesday evening. The "parenting" behavior demonstrated on the channel she ran with her husband Kevin Franke, which starred the couple's six children and had at its height 2.5 million subscribers, had long been suspicious and upsetting to viewers.
According to Salt Lake City's Fox 13, arresting documents describe a child climbing out of a window and running to a neighbor's home to ask for food and water. The neighbor noticed that the child had duct tape on their wrists and ankles and called the police. Another child was found at the home the first one escaped from, which belongs to Franke's business partner and therapist Jodi Hildebrandt.
Viewers of "8 Passengers" and investigative vloggers have flagged Franke's concerning behavior around feeding and withholding food from her children for a long time. In one video, Franke brags about not feeding her kids breakfast until they do their chores, despite them being "literally starving." In another, Franke explains the reasoning behind not bringing her hungry 6-year-old lunch at school, because it's actually the kid's responsibility to pack her own lunch. It's all deranged.
Franke and Hildebrandt, the woman whose house the children were found in, started a Youtube Channel in June 2022 called "ConneXions" around the time "8 Passengers" was winding down after accusations of neglectful and abusive parenting. An extensive report on Business Insider explained that onlookers described ConneXions, which recommended extreme and authoritarian parenting tips, a "cult." There, Franke also gave harmful and dangerous advice about the origins of and how to handle children's eating behaviors.
After Franke's arrest, her eldest child Shari wrote "Finally" on an Instagram story alongside a photo presumably of her mother being taken away by police. A follow-up post read:
"Today has been a big day. Me and my family are so glad justice is being served. We've been trying to tell the police and CPS for years about this, and so glad they finally decided to step up.

Kids are safe but there's a long road ahead. Please keep them in your prayers and respect their privacy.
Last September, Shari shared that she was not in contact with her mother due to her ConneXions business, according to Insider.
One can't help but notice the unfortunate pattern of Youtubers or parenting influencers on any platform who've compromised their children's wellbeing. Remember Myka Stauffer, who "rehomed" her adopted child with special needs in 2020? Or the "FamilyofFive" parents, who were convicted of child abuse in 2017 for the elaborate and cruel "pranks" they pulled on their children? The parenting choices these people made are upsetting enough, but their incessant need to capitalize off of them for content at their children's expense is horrific.
I imagine the validation of views or subscribers that Franke experienced only cemented her misguided sense of authority on how to treat children. Hopefully, as Shari says, the kids who'd been under Franke's watch (Kevin, her husband, seems to be estranged at this point, and it's unclear where he is) are now safe. My other hope is that this development gives pause to other parents keen on commodifying their children's lives for an outside audience—or supporting and giving a huge, monetizable audience to those who do.