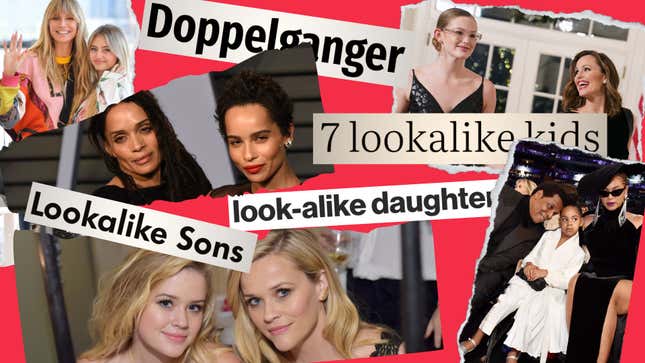 "Jennifer Garner uses her look-alike daughter Violet as a shield from paparazzi"
"Gwyneth Paltrow poses with her look-alike kids and more star snaps"
"Kate Winslet Poses with Lookalike Daughter Mia on BAFTA TV Awards Red Carpet — See the Photos!"
"Gavin Rossdale, 57, and his lookalike teenage son, Kingston, 16, spend quality time together during a shopping trip in Malibu."
Sure, I'll click. Click. Click. Click and click again.
Tabloid coverage of a celebrity and their child is almost always accompanied by the word "lookalike." Page Six, People, Daily Mail—they deploy the word constantly. I like to call this tactic the "made you lookalike." Because, without fail, I click on the story, muttering, "I'll be the judge of that," to myself as I do.
Sometimes the child in question does indeed look strikingly like their parent, as is the case with Reese Witherspoon and Ava Phillippe, or Jennifer Garner and Violet Affleck. But more often than not, the kid bears the vague resemblance any offspring, biological or not, might to a person who raised them—the kind of likeness that makes you tilt your head and say, "Sure, I can sort of see it." Pierce Brosnan and his "lookalike sons" and Christie Brinkley and her "lookalike daughter" Sailor Brinkley Cook come to mind.
Tabloids aren't a media form particularly hellbent on using accurate semantics. But if meaning is created through repetition, then please let me unpack all my many thoughts on their persistent usage of the word "lookalike."

On a surface level, the promise of a doppelgänger is enticing, an admirable ploy. Click. Click. Click. Especially the doppelgänger of a famous person whose visage carries much more value than the regular Joe's. Click. Offspring doppelgängers saddle up nicely within our cultural obsession with those born into privilege, aka "nepo babies." Not only did Blue Ivy Carter win the golden ticket for well-to-do, talented parents, she's the spitting image of both father Jay-Z and mom Beyoncé, the heir apparent to their money and perhaps their talent. Time will tell!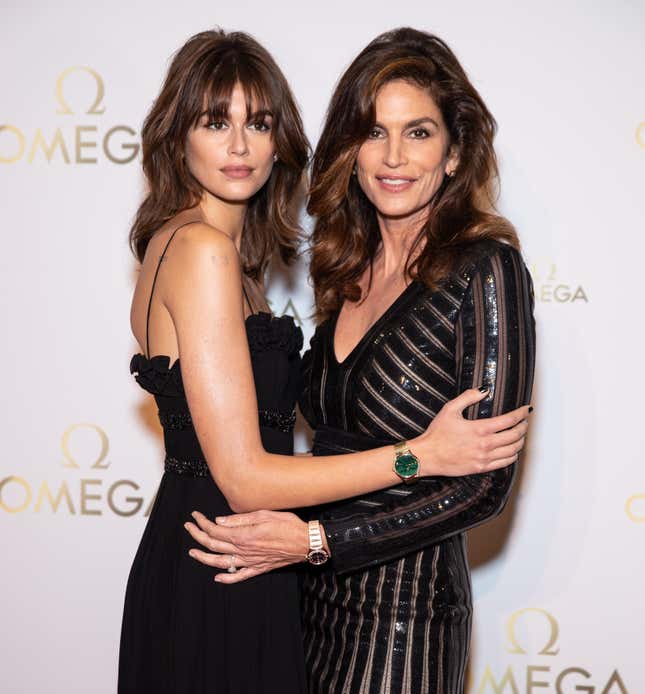 "Lookalikes" are a two-way complimentary street for both the child and parent in question, too. Yes, Zoë Kravitz looks just like mom Lisa Bonet. But then, by the transitive property, 55-year-old Bonet can still be held in comparison to 34-year-old Kravitz. Tabloids are innovating new ways to suck up to or subtly shade celebrities. According to the Daily Mail, Suri Cruise, 17, is Katie Holmes', 44, lookalike. I actually don't really agree, but you know, good for her. Which "her?" Doesn't matter!
The comparison offers up a genealogical lineation for us to gawk at. Europe gets royalty. We get "Woody Harrelson pens poem for 'adorable' lookalike baby."

"Lookalike" can also expertly stoke drama where there is none. Page Six recently ran with the headline, "Jennifer Lopez treats Jennifer Garner-look-alike stepdaughter Violet Affleck to lunch." How kind, selfless even, for J.Lo to spend time around a child who is a visual stand-in for her husband's amicable ex. The alternative option, I suppose, is that J.Lo could...not talk to her? Refuse to be in the same room as her? Push her down a flight of stairs? "Lookalike" has made a saint of J.Lo in this instance.
"Lookalike" is as effective for what it is saying as what it isn't. In 2014, a group of tabloids including People and Entertainment Tonight agreed to not use paparazzi photos of A-listers' kids without their consent. The A-lister crusade was led by Kristen Bell and Dax Shepard, who back then and since have had little issue with sharing almost every other part of their personal lives. But I agree with them: Unauthorized pap photos of people's kids, famous or not, is dubious ethical territory to traipse into, even for professionals know for hiding in bushes and under cars.
Social media, then, provides these outlets with roundabout ways to share authorized photos of celebrity kids, by sharing their famous parents' posts. I do think the sentiment rightly stands that looping celebrities' kids into tabloid fodder and surprise street-style photo shoots is a shady way to go about things. So when tabloids do share news (or what they consider to be news, lol) about celebrities' kids, "lookalike" seems to be the most innocuous way to describe them. It's like saying, "Here's this kid I want to talk about, but I'll only do so in a circuitous way, in connection to their parent, who I am also indirectly complimenting." Really, the news is that there's a new famous kid on the block, but it'd be gauche to say that upfront, so the tabloid instead invites us to uncover the truth for ourselves: "Wow! They're twins!" or "What?! They hardly look alike!" or "Sure, I can sort of see it."
The deflection also gives way to ambiguous usage of "lookalike" as a way to comment on the attractiveness of a celebrity's (usually) young adult child. Sex symbol Elizabeth Hurley "cuddles up to look-alike son Damian," according to Page Six. Sure, they don't explicitly say the "sex symbol" part, but that's sort of the point, no? To lead the reader to fill in the blank. Does her 21-year-old son look like his famously hot mom? Do you feel weird for thinking that? Yeah, I would, too! But here we are! "Heidi Klum, 49, and lookalike daughter, 18, model lingerie together for new campaign," the Daily Mail announces to the same effect.
Sometimes—though rarely!—the phrase is used for folks not genetically linked. This is where it really goes off the rails. Dylan Sprouse and "lookalike girlfriend Barbara Palvin" recently got engaged, the tabloids crowed. That comparison frustrated me, because they look as much alike as any two young white people with elevated cheekbones. It frustrated me even more when, in a recent episode of Who? Weekly, Bobby Finger and Lindsey Weber pointed out the obvious—that Sprouse actually has a lookalike: his identical twin brother Cole Sprouse. But, of course, I read the article. How clever of Page Six! While there simply isn't a world in which I care about who either Sprouse twin plans to file taxes with, I unfortunately do suffer from morbid curiosity about someone who'd propose to their lookalike. "Is he some egomaniacal sick freak?" Click.
Ultimately, "lookalike" praxis is lawless, made more meaningless with each use, like the faint echoes of a declaration shouted into the Hollywood Hills. Kanye "Ye" West is often seen with new girlfriends who are deemed Kim Kardashian "lookalikes" by tabloids. As always, the accuracy of the claim is irrelevant. Decoded, we're supposed to pity the man unable to move on from the death grip of Kris Jenner's conglomeration. Or perhaps we are to fear his obsession with his ex? Why not both! Each reader is given the keys to the lookalike car and gets to decide where to drive it. Off a cliff, if they'd like! It's a choose-your-own lookalike adventure.
No child in Hollywood is safe from the word. No mother either. And yet, like a moth to a flame, like Kanye to a Kim Kardashian lookalike, I click.