On the heels of ET's announcement that they would no longer be publishing unauthorized paparazzi photos of celebrity children, two other outlets have joined the cause: People magazine and Just Jared.
People was the main publication targeted by Kristen Bell and Dax Shepard — the couple who has recently spearheaded this campaign — because People is considered a "classy" media outlet. In his letter about the change, People Editorial Director Jess Cagle wrote that celebrities like Bell and Shepard have "made the media more sensitive to the brutal tactics some freelance photographers use to get even the most innocent-looking shots of celebs' kids at play." Cagle joined People in January, and says that since he started, the staff at People has been aware that the publication "would not publish photos of celebs' kids taken against their parents' wishes, in print or online."
G/O Media may get a commission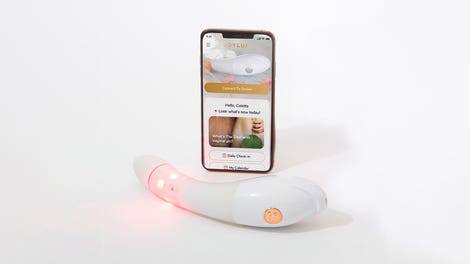 $50 Off
Joylux vFit Gold Device
Is that true? It doesn't look like it. As noted previously, People has an entire section of its website devoted to celebrity babies. This is an area Cagle says will now be made up of "sanctioned photos – like exclusive baby pictures taken with the cooperation of celebrity parents, and photos of stars posing with their kids at events (like a red carpet) where they're expecting and willing to be photographed." Although: He admits "there may be rare exceptions based on the news-worthiness of photos." Wait, are "rare exceptions" in this slideshow of "February Birthday Babies" featured prominently on the "celebrity baby" page Tuesday morning? Because there are paparazzi photos of Jennifer Garner, Jennifer Lopez, Rod Stewart, Robert Downey Jr. and Marcia Cross — with their kids. If those are considered "rare," then People is doing what they say they're doing. Or perhaps we are to believe that Garner, Lopez, Stewart, Downey Jr. and Cross are among those "stars who exploit their children one day, and complain about loss of privacy the next" — folks Cagle says will not be included in the ban. No word about whether Gwen Stefani – featured with her kids in a slideshow about her pregnancy style – would fit in that category either.
Perhaps there's been a communication issue and Cagle's message hasn't really seeped through the whole organization. Many of his writers have likely been at People for a long time, long before he got there, and are used to a certain kind of content. It might take some time for them to adapt to this new world of integrity.
Joining People, Just Jared and its sister site Just Jared Jr. (which publishes stuff for the tween set, i.e. more coverage of Selena Gomez) will be "the first major celebrity and entertainment news blogs to take a stand in the fight against paparazzi photos of the children of celebrities," according to a statement. "The sites will no longer publish unauthorized photos or videos of celebrities' children who are not public." They have laid out the same general rule for what photos they will publish as ET and People:
What does that mean for JJ readers? We won't be posting photos of children of public figures without consent. All of the paparazzi shots of kids playing at the park, catching a flight at the airport, and walking to school will be off limits. Exceptions to the rule include consensual photos like public figures with kids on the red carpet, at sports games and concert venues, and pictures shared directly via social media.
According to the press release, Bell reached out to Just Jared personally, because the site "has garnered a reputation in the industry as being the source of fair and positive news. Just Jared is known to be the 'nice-guy blogger' among other leading entertainment blogs." The site says that they've "scaled back" their content of celebrity children over the past year and reveals that they've previously respected the wishes of celebrities who have asked their children not be featured on the site. Just Jared says they've also spoken with Blake Lively (who does not have kids but has expressed a desire for a whole lot of them) and Jaime King about this issue.
In email to Jezebel, Jason Eng, the CEO of Just Jared and brother of founder Jared Eng said, "We think that given the emergence of blogs (like Jezebel/Gawker, of course!) the past decade in the celebrity/entertainment space, our editorial change as the first major celebrity blog to make this change will be groundbreaking." Though paparazzi photos of celebrity children are scarce on the site right now, as recently as early February, Just Jared was posting photos of Katie Holmes with Suri Cruise. Yesterday, there were photos of Jimmy Fallon with his wife, baby and a pregnant Drew Barrymore. Though a post about Ellen Pompeo and Will Ferrell taking in a Lakers vs. Nets game with their children would seemingly get an "okay" from Just Jared, perhaps the fact that you can't really see Fallon's daughter in her carrier also makes this "okay." Also, as implied from a tweet by Just Jared's Managing Editor, they've been working to clean the site and finalize the policy all weekend.
Whether or not these publications are actually following through on their rather vague photo standards, the most fascinating side effect of this growing ban on unauthorized photos of celebrity children will be how much it reveals about the connections between journalists, paparazzi photographers and celebrities. As more media publications take on this "no kids" rule, it'll become clearer which celebrities do work with the paparazzi. It's obvious that – despite what the Kardashians argue on their show – they (and their children) wouldn't exist in the lifestyle they've become accustomed to because of the paparazzi. In his letter about the change, People's Cagle even addresses his own close relationship with actors:
PEOPLE's current practices actually address [Bell and Shepard's] concerns. My colleagues and I are journalists, but we're also mothers and fathers and aunts and uncles. I have close friends who are actors, and I've seen them struggle to protect their kids from photographers and reporters who cross the line.
What these rules could also do is create new price demands for photos. When Dodai spent a day with a paparazzo in New York in 2010, a number of the images he ended up snapping were of celebrities with their kids: Liev Schreiber, Sarah Jessica Parker. If this ban grows, there will certainly be less of a demand for these photos from certain publications. On the flip side, the publications that still feature celebrity kid photos quite often (In Touch, Life & Style, Star, etc.) could see an increase in traffic from their ability to monopolize the market. Those proceeds could make their way back to the photographers, creating more obvious delineations within the industry between tabloids and... everyone else.
Or – as Bell, Shepard and other celebrities hope will be the case – people will forget that they once had constant access to every photo of Suri Cruise available and will grow to find they don't miss it. Perhaps we've moved past the peak celebrities-with-kids moment. Or some stars have just figured out a way to publicize their families on their own terms and the media is fine with playing along.
Images via People