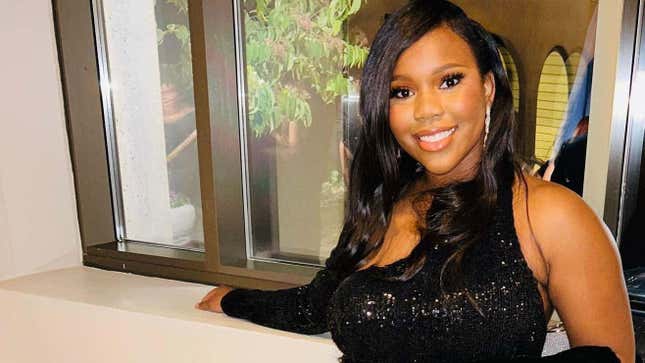 Just days after Carlee Russell's boyfriend asked the public to stop cyberbullying her no matter "what it seems like she did," the Alabama woman admitted via her lawyer that her 49 hours of appearing to be "missing" was a hoax. And now, only after that bombshell press conference, Thomar Latrell Simmons is referring to her as his "ex."
"Carlee's actions created hurt, confusion, and dishonesty. I was made aware of the false narrative after coming to the defense of my ex Carlee Russell," Simmons wrote in an Instagram post on Monday night. "Myself and my family's nature was to react in love, and genuine concern. We are disgusted from the outcome of this entire situation."
Russell had previously claimed, after turning up alive, that she'd seen a diaper-clad toddler walking along the interstate and when she stopped to help, a man with orange hair grabbed her and put her in an 18-wheeler. The man, along with a woman and a baby, transported her to a house, where she was stripped, blindfolded and photographed. Eventually, after being put in a car again she escaped and "ran through lots of woods until she came out near her residence," Hoover Police Chief Nick Derzis told reporters last week.
After Russell safely returned, Simmons deleted public traces of her from his social media accounts. Still, he asked for people to be kinder to Russell online. "The only thing I can say is, I want everyone to stop bullying her. I know what it seems like what she did. Just stop bullying on social media," he told the New York Post over the weekend. "Think about her mental health. She doesn't deserve that. She doesn't. Nobody deserves to be cyber-bullied."
From Simmons' public statement, it sure seems like Russell was keeping up the kidnapping story until Monday, when her attorney sent a statement to police on her behalf saying the disappearance was a self-inflicted hoax. Simmons said he was "blindsided with Carlee's actions."
Her statement to police via her attorney have brought "closure," according to Simmons. On Monday, Russell's attorney Emory Anthony confirmed that her disappearance was a hoax, with a statement reading in part:
"There was no kidnapping on July 13, 2023. My client did not see a baby on the side of the road. My client did not leave the Hoover area when she was identified as a missing person. My client did not have any help in this incident, but this was a single act done by herself. My client was not with anyone or at any hotel during the time she was missing. My client apologizes for her actions to the community, the volunteers who were searching for her, to the Hoover Police Department and other agencies, as well as to her friends and family."
Simmons thanked the volunteers and nation for their actions, donations and prayers. "The severity in this matter has not been overlooked, and I deeply respect the genuine support shared during this situation," he wrote. "Please continue to keep us in your prayers."
Another sad addition to an increasingly sad and confusing story.