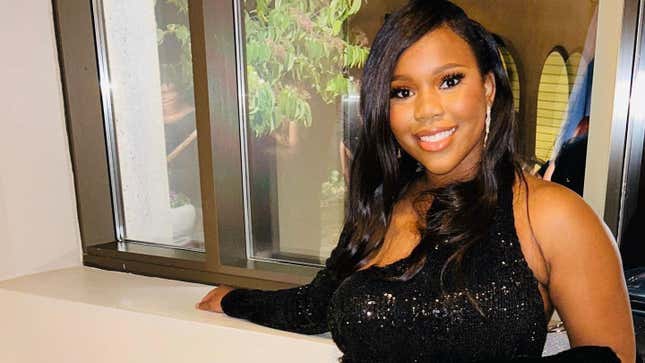 Carlee Russell—an Alabama woman who was missing for approximately 48 hours last week—showed up on the threshold of her family's home on Saturday night. Russell's return to her family marked a safe ending to her disappearance that, to borrow a cliche, captured the nation as events leading to her disappearance were so bizarre and troubling.
Now, online sleuths are thirsty for answers—with some straight-up calling Russell a "liar" and her disappearance a "hoax."
The idea that a Black woman would immediately, widely be called a liar after turning up alive, of course, did not sit well with many people, who called out the obvious double standards at play.
Russell, 25, was driving home from work on Thursday when she stopped on the side of the interstate to check on what she described to both a relative and the 911 dispatcher as a diaper-wearing toddler walking on the side of the highway. Russell's 911 call "remains the only timely report" of such a child, according to a Monday morning update from Hoover (Ala.) Police Department.
Russell went missing sometime after 9:36 p.m., two minutes after she called 911 about the male toddler, according to police. Traffic footage of the stretch of interstate shows Russell's car slowing down. Police reported that officers arrived "on the scene within five minutes of being dispatched," but Russell was already gone. They found Russell's wig, her cell phone, Apple Watch, and her purse. Her car was still running, according to Rusesell's mother, Talitha.
"My son's girlfriend heard [Russell] asking the child, 'Are you OK? She never heard the child say anything, but then she heard our daughter scream,'' mother Talitha Russell told AL.com. "From there all you hear on her phone is background noise from the interstate."

It's that information vacuum that attracted the true crime junkies and conspiracy theorists. One rabbit hole internet detectives went down was a witness who said they saw a gray car and "light complected" man near Russell's vehicle when she stopped to check on the toddler. However, police chief Nicholas Derzis told NPR that traffic footage didn't show a nearby vehicle. You can watch below:
Another was the possibility that Russell was at a nearby hotel, just miles from where her car was found, TMZ reported. The tabloid published audio between 911 dispatchers and police saying Russell's family said they had received a call from Russell saying she was at the Montgomery Highway hotel around 6:53 p.m. on Saturday. Russell's family seems to have gotten to the hotel rather quickly, according to the audio. "I just spoke with the front desk clerk," a police officer said on the tape. "They said that the family isn't being hostile or anything like that, but there was about six carloads of people that have just shown up over here."
No one under the name "Carlee Russell" checked into the Montgomery Highway location, but the officer on the published audio said "the message the family got did not state which Red Roof Inn. They don't know [the location]." Police obviously didn't find Russell at the Red Roof Inn either.
While on-the-ground searches waged on, Russell's family used social media to make sure people noticed that a Black woman was missing. What might have been a regional story, because missing Black women are often ignored, instead became a national story, with Russell's saga being covered by mainstream national outlets like CNN and The Associated Press.
On Saturday at 10:44 p.m., Russell's family again called 911, this time to report that Russell "had returned on foot," according to Hoover police. The fire department took her to an area hospital for examination and treatment. She gave an "initial statement" to police, but its contents haven't been released. "We rejoice with the Russell family as they continue to rest and recover from this situation and ask for their wishes to be respected regarding their privacy," Hoover Police Lt. Daniel Lowe said in a statement on Monday morning.
No additional information about the interstate-walking toddler that started Russell's saga, nor about what happened or where Russell was for those 48 hours, have been released to the public. Police have also chosen to not detail her injuries for the public, which seems reasonable on both an investigative level and on a human level.
Despite the "mums the word" approach, all police updates says the investigation is ongoing. It's notable that her boyfriend, Thomar Latrell Simmons, called Russell's experience "an abduction" and asked for peace as she recovers. Simmons asked the eager masses "be respectful of Carlee's situation," he wrote. "She was literally fighting for her life for 48 hours, so until she's physically & mentally stable again she is not able to give any updates or whereabouts on her kidnapper at this very moment."
Russell's story—when combined the natural information vacuum that follows any police investigation and society's love of true crime stories—means immediate answers will never be satisfactory. The woman is now safely home. Whether she was kidnapped or had a mental health episode, Russell was missing for 48 hours. Now, she's safe, and that's clearly what matters.