Cardi B, the exceptional ex-stripper who fashioned herself into a superstar, has created a brand that involves people accepting her jagged edges. As a rapper, she transparently shoots for not just a big audience impression, but whatever visibility, on whatever platform, will make her greater. We've embraced that her goal post is profit, because money rules the world and because strippers make the best accountants. "I have a passion for music, I love music. But I also have a passion for money and paying my bills," she told The Fader in 2017. It's forgivable when she falters. And when she raps, with that barbed yet sometimes broken flow, it's fine because the music is moving.
With her first, highly self-aware album, Invasion of Privacy, she's made songs that will sensibly bang on her former turf (the strip club), on the radio, and in places where people dance. But predominantly, it's music that allows women to tap into their wildest, most rancorous frequencies and crudest emotions. Through a number of detailed instructions of the sort that made her famous—i.e. materialism as means of agency and ascension—Cardi encourages the liberation of a certain swaggering persona. That powerful, sometimes problematic part of yourself that rants, brags, instigates, and does celebratory ass moves. Think of Insecure's mirror moments, where Issa Rae tunes into her ratchet alter ego, becoming cocky and free. Cardi's album is peak Ratchetpiece Theater, a self-affirmation soundtrack to letting loose for once (or twice).
Take one of Invasion's anthems, "Bickenhead," where she suggests a plethora of ways to drop it low like the rent is due, through a whirlwind of pussy-popping moves: "Pop that pussy like you ain't popped that pussy in awhile/Pop that pussy like poppin' pussy is going out of style/Pop that pussy while you work/Pop that pussy up in church/Pop that pussy on a pole/Pop that pussy on the stove." If all else fails, location wise: "Spread them ass cheeks open, let that pussy crack a smile." You can do that anywhere. It's a good workout perhaps, and also a great life question: In how many permutations can one pop a pussy?
The song is crafty in its mere existence, a sample of the 2001 classic "Chickenhead," which came out during a glorious era of ratchet rap—that uninhibited style of hip-hop that's solely concerned with the freedom of partying and bullshit. On the original record, which features back-and-forth trash-talking, Project Pat addresses a "bald-headed scallywag," and La Chat argues back: "You riding clean/But ya gas tank is on E." Cardi's version bears the same deep rattle and audacity, except there's a transaction in play: "Give him some vag, I'm gettin' a bag." In the long line of women rappers who've bartered sexuality to contentious results, there's a sense that, a la Trina, Cardi's enterprising approach feels true to character (she had been doing it on her own) rather than an unfortunate kowtowing to rap expectations.
G/O Media may get a commission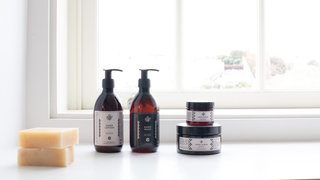 Exfoliate and Hydrate
The Handmade Soap Company
If you wanna feel bad (as in good), she has a song for that. "She Bad" is another round of motivational speak in service of twerking, in which YG plays the functional role of a breathless hype man. His repetition gives the song its galvanizing rhythm (nice for a treadmill run), but he's really there to show deference, to cape for the artist he's guesting for, who leads into her own verse with a statement of purpose: "Look, mama needs some meal money/Prada bag and heel money." The effect is hypnotic.
And it brings out a certain ecstasy. For example, every Friday, an Instagram user named @iamzoie posts a video of himself dancing in his bedroom, to his over 3 million followers. In the bedroom, there's a pole, where you'll find him bouncing and dropping. Each week, I share his videos to one specific group chat as inspiration. His latest routine was set to "She Bad."
The project is so succinct, in part, because it's an accurate reflection of the role she played on Love & Hip-Hop: New York and on social media—that crass, oddball humor, which translates refreshingly in her music. She compares her racks to Beyoncé's twins. She jabs: "Get it from my mama/And you don't know where ya daddy at." (Which made me think of the great Trina line: "And I'd probably fuck ya daddy if ya mammy wasn't playa hating.") She tells us her whole life has been spent waiting "to shit on niggas"—which seems like it was worth the wait. And even in moments of anger and, for example, contemplating murder, she keeps it light. "Thru Your Phone," a seemingly Keyshia Cole-directed revenge plot around infidelity, is full of slander, insults, and threats that may or may not be over-reactions. "I just wanna break up all your shit/Call your mama phone/Let her know that she raised a bitch," Cardi raps. She later threatens: "I might just cut all the tongues out all your sneakers," which for a man could be an unforgivable offense tantamount to cheating. She adds: "I'ma make you a bowl of cereal with a teaspoon of bleach."
Cardi sounds like an entirely different artist while singing the hook, in an innocent tone that comically offsets her rage. A significant range of emotional states are on display throughout the album—confidence, tenacity, heartbreak, grief—and she's rapping about all these things without getting too uncharacteristically tender.
Everything else (songs like "Drip," "Money Bag," etc.) fits her aesthetic of hype records designed for strip clubs, club clubs, or you in your apartment. Most of the beats are fixed at the precise, hammering pace of a rabbit who just stopped being celibate. The featured guests, which some might argue overrun the album, make sense because each artist, including Chance the Rapper, SZA, and J. Balvin and Bad Bunny (featured on the future summer jam, "I Like It"), sound like themselves on their respective songs, further proof of Cardi's ear for authentic collaborations (see also, Bruno Mars's "Finesse"). We're well aware that her flow is strangely choppy at times, but it's a momentary bother. In a smart way, the guests provide her breathing room. That may sound bad, but it's better if she lets up and just lets Kehlani take over "Ring," a testimonial which Kehlani enhances with a vocal tone that's sheeny and sugary like Domino. That the balance ultimately works is proof of Cardi's ingenuity, and a testament to her self-awareness.
In life, but especially on social media, where life is lived in blips, the simple memory of something is currency. We're constantly struck with the fear of being forgotten, and this is as true for the average person as it is a reality TV star or musician whose job is to make moments into additional moments that will ensure people love and remember them. With "Bodak Yellow," Cardi became the first female rapper since Lauryn Hill to land a No. 1 song without a featured artist, kicking Taylor Swift off the top of the chart in the process. She was also the first rapper to have her first three Billboard Hot 100 records in the top 10 at once, in company with the Beatles and Ashanti. She's a household name, and now finds herself in the tiring position of needing to salvage privacy and authenticity, though transparency is what she bargained. On Saturday, during her performance on Saturday Night Live, after weeks of batting rumors, she announced her pregnancy herself through simple visual confirmation.
Cardi B is, by all accounts, a product of effort and resourcefulness, and she made a fun album that perfectly suits her, one that mimics the charming character she presented online and on TV. I like to think of her as an evolved version of one of the subjects on Jazmine Sullivan's 2015 album Reality Show, which played like an ode to the ambitious women of reality TV who very often get lampooned for being crazy, opportunistic caricatures. Many of them from hereon will want to copy Cardi's success, because as she's proven, it's actually crucial that they seize their moment.
---