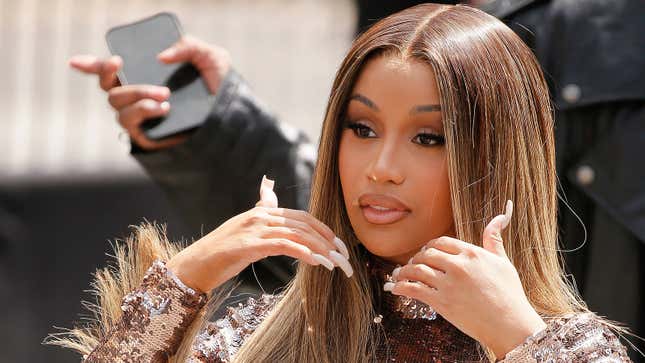 A wise woman once said that when you do clownery, the clown comes back to bite. Given that, it was inevitable that at some point a star would get so fed up after having something thrown at them onstage and retaliate. We've seen a rash of performers getting pelted in recent months: Pink, Kelsea Ballerini, Bebe Rexha, Harry Styles. Ava Max got slapped! It's been a minute since we've seen such a report, but now throwing things at musicians is back with a vengeance—specifically Cardi B's vengeance.
The rapper was performing at Drai's Beachclub in Las Vegas on Saturday when an attendee threw a drink at her. It took Cardi about a second to respond by hurling her mic at her assailant.
Several angles of the incident were posted online:
In this one, you can see a woman holding a cup screaming, "I'm sorry, I'm sorry!" and being apprehended by security:
Cardi has yet to address the incident. Her most recent Instagram Stories post (at the time of this post's publication) was footage of flammable shots being prepared for her and a drinking companion.
A sister controversy has emerged as a result of the viral clips of Cardi's mic-throwing. Though Cardi stopped performing upon impact and now famously tossed her mic in the crowd, her "Bodak Yellow" vocals kept playing, inviting comparisons to infamous lip-syncers Milli Vanilli. (Indeed, Milli Vanilli was trending Monday morning on Twitter.) But performing along to backing tracks is quite common and not something people necessarily hide. This is not a scandal! It actually kind of amazes me that people will sing or rap right over the album versions of their own cuts (don't they have an instrumental version?), but you didn't hear that from me. Trying to avoid having a mic flung in my direction over here.
---