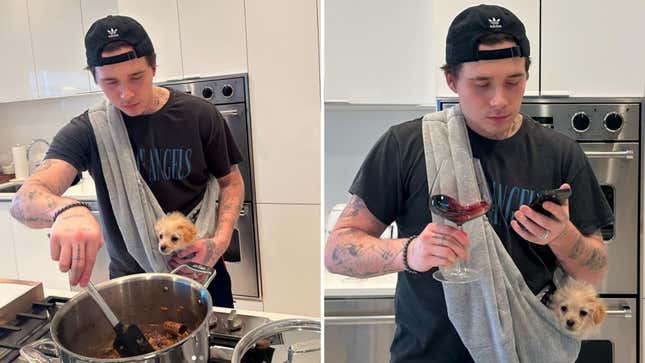 Far be it from me, a person who is not a chef or anything resembling one, to continuously criticize the culinary pursuits of Brooklyn Beckham. Unfortunately, doing so is as easy as his recipe for fettuccine faux-fredo and, I imagine, ten times more pleasurable. Besides, the Beckhams' eldest son clearly has the resolve—or shortfall in self-awareness—of any other child of immense financial security, so, opportunities abound.

On Wednesday, the amateur photographer, stylist, and chef got back in the kitchen and posted a photo of himself cooking up some bolognese—notably with his new rescue puppy, Peanut, in a papoose sling. Sounds fairly simple, right? Wrong. In fact, unforgivably wrong.
Mercifully, Beckham refrained from sharing a video of the process as he mistakenly has in the past...but look closer at the post and you'll almost immediately realize that the pot of sauce boasts a curious ingredient: a wine cork.
That's right, alongside the minced beef and diced carrot rests the robust cork of the red wine Beckham appears to be pretentiously swirling in the next photo.

As in his every other public attempt at cooking, the post was immediately inundated with the kind of criticism I should really be too mature to giggle at. "Why are you cooking the cork for bro?" begged one user. "Is the cork added flavour?" inquired another.
Because this kid is a professional masochist, Beckham also took to his stories to field some questions from his followers. In case you didn't know, his favorite color is dark green, he's enthusiastic about Tokyo, and he really wants more dogs. In a slight reprieve from that scintillating Q&A, Beckham then addressed the inquiries about his bolognese, sharing a screenshot from what appears to be a Google search result regarding the addition of wine corks to simmering sauces: "More research ensued and we found information that the addition of wine corks added to the cooking liquid ensured a more tender dish."
Once again, I'll emphasize that I am not a seasoned cook, but this hot tip is news to me—and apparently, to actual chefs, too. While wine is a welcome ingredient in any bolognese sauce, a cork, as it's since been reported, is only really used by some chefs to tenderize squid and octopus...not minced beef or pork for bolognese. Upon my own—admittedly, very light—investigation, I didn't happen upon any evidence to support Beckham's methodology.
Even still, Beckham asserted via his Q&A that food is "his passion." I tend to jest, but much like a corny classroom poster, there might just be some inspiration to be taken from his relentless attempts at a career. Shoot for the moon, Becks. Even if you miss, you'll land amongst the stars.
---