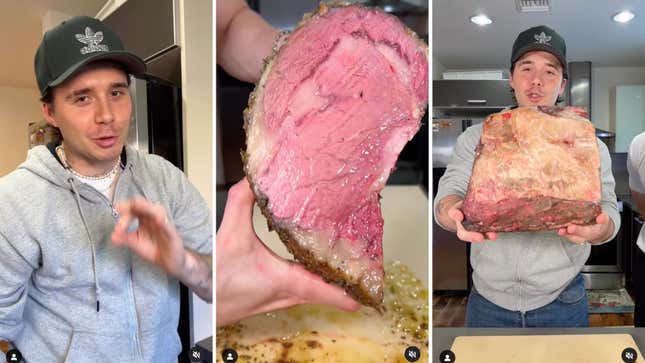 If a gnarly case of botulism breaks out in Beverly Hills in the next few days, I think it's only appropriate to bring Brooklyn Peltz Beckham, amateur photographer and professional nepo baby, in for questioning. On Thursday, Beckham posted an Instagram video to his nearly 15 million followers of him and Chef Kevin Lee cooking a proper Sunday roast. Except "cooking" is a really generous word to use in this situation. The final reveal of the dish, which used approximately 40 lbs–excuse me, 3 stones—of butter, was a bloody sight to see.
Dirt Bag of the Week: Katharine McPhee
"A vet could bring that back to life," read one of the top comments on the video. Commenters dragged Brooklyn's cooking skills to the point where Posh Spice had to get involved. Victoria Beckham posted on her own stories that she plans to make the roast herself for her family this weekend. She added, "It's rare, not raw."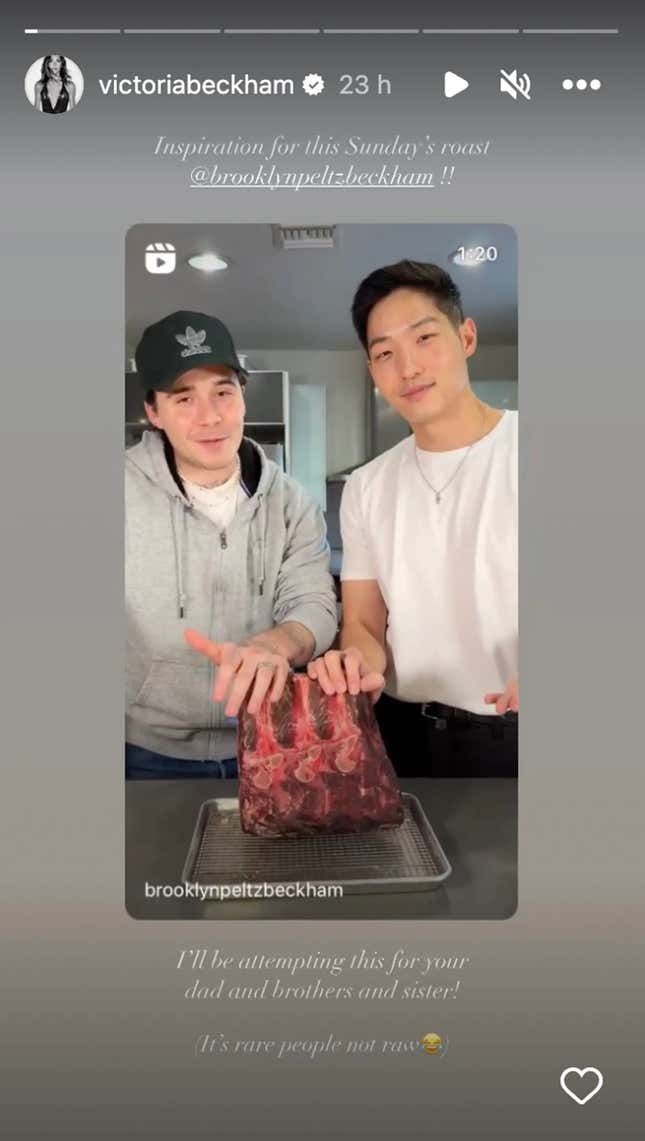 Will Posh Spice actually make this for her family? Probably not. And not just because they might all get trichinosis. Famously (infamously?) Posh only eats "grilled fish [and] steamed vegetables," her husband, David Beckham, told Vogue last year. He also added that she's eaten the same meal every day since he met her more than 25 years ago. Bleak! In fact, I'm worried she might cluelessly serve her son's undercooked roast thinking it's acceptable, making her the botulism suspect.
In all fairness, Brooklyn's roast probably wasn't actually raw—but I do take some pleasure in watching him try pursuit after pursuit only to never nail the landing. Between his 2017 photography book, the 10 PR emails I receive a week about his new sake brand, and the revelation that it takes 62 people and $100,000 to create these "Cookin' With Brooklyn" videos…our boy is struggling.
---