"Women don't get paid as much as men and that is wrong," pouts Seth Rogen in the newest spot for Budweiser's Bud Light Party campaign.
"Bud Light proudly supports equal pay," says Amy Schumer. "That's why Bud Light costs the same, no matter if you're a dude or a lady."
The ad, which premiered Monday during The Bachelorette, follows two previous vaguely political Bud Light Party spots, both produced by agency Wieden + Kennedy—one in which fictitious politicians Schumer and Rogen implore drinkers to join the party, and another that depicts same-sex weddings as "just like any wedding." The campaign follows several rebrands for the company—Bud Light cans were recently revamped, also by Wieden + Kennedy, and in May, Budweiser announced it would replace the word "Budweiser" with, ambitiously, "America."
In addition to the latest ad, Bud Light also promised to donate a dollar (up to $150,000) to Catalyst, a non-profit aimed at increasing opportunities for women in the workplace for every time #CheersToEqualPay is used on Twitter.
"The Bud Light Party allows the brand to chime in on timely cultural moments that resonate with many beer drinkers throughout the country," read a statement, in part, from PR firm Weber Shandwick on behalf of Wieden + Kennedy. "We chose to feature equal pay knowing that equality for all Americans is a concept that unites many Bud Light drinkers."
G/O Media may get a commission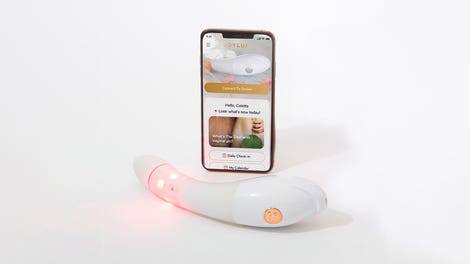 $50 Off
Joylux vFit Gold Device
Very altruistic. Though I'd be more moved if the #CheersToEqualPay campaign didn't immediately follow the questionable #UpForWhatever campaign, which prominently featured the tagline, "The perfect beer for removing 'no' from your vocabulary."
Alienate the women, win 'em back with Amy Schumer: such is capitalism's relentless slog.
But what of the company's actual practices? Budweiser is a traditionally male-dominated brand in a male-dominated, fratty field, and while efforts at appealing to an increasingly progressive America is a noble gesture, it doesn't amount to much more than a marketing tactic (equality is extremely hot right now) if the company doesn't lead the cause. (To be sure, the industry has a reputation of appealing to America's misogynistic impulses.)
Of the 11 Anheuser-Busch North America executives (which includes Budweiser), only one is a woman (Katie Barrett, U.S. General Counsel). Of the 17-person Anheuser-Busch InBev leadership team, there is also a single woman (Sabine Chalmers, Chief Legal & Corporate Affairs Officer). There are only two women on the company's board of directors.
Anheuser-Busch's reviews on InHerSight, a website that gathers data on how companies treat women, don't paint a more favorable picture. The company currently has a score of 2.1 out of 5, based on metrics like personal development, career opportunities, and family support. One commenter wrote that men outpace women in most departments; another referenced verbal sexual harassment, saying, "I was a senior manager and was told to 'look nice' for presentations and customer meetings. I would avoid as a woman. They don't seem t [sic] care about equality - women are only good for ads."
Another wrote, "The brewing industry is male dominated, so there is still opportunity to create a more female friendly atmosphere. Unfortunately, like most major companies there are no women on the board of directors and very few in positions of power."
Reviews on company review site Glassdoor are mixed (some are glowing), but a few complaints comes up again and again, especially from people who self-report to be on the marketing team: low pay and bad work-life balance.
One commenter from May 2015 said management was largely unconcerned with its employees:
There has been an incredible amount of turnover in the marketing department over the last 12 months since new leadership was put in place, some involuntary but most voluntary. Despite the fact that most people are working the equivalent of two to three jobs, and work life balance is completely nonexistent, senior management is pushing on even more priorities. They are out of touch with employees as they barely interact with them, instead stuck in meetings with each other, the CEO and the board. This means the day to day work environment is constant fire drill management. What's more there is little upside to the pressure- in the last four years, they have only paid bonuses once.

The idea of work-life balance is, of course, one that is fundamentally about women and their upward mobility in a company—in a corporate culture that values long hours, women are generally the ones forced to choose between caring for children and nurturing their own careers.
The Washington Post reached out to Anheuser-Busch InBev, Budweiser's parent company, to see if they would provide data about how many women it employs and how much those women are paid, but, according to the paper's account, the company refused, revealing only that the U.S. 140-person marketing team is "51 percent female-identified, 49 percent male-identified."
Lisa Weser, senior director of marketing communications at Anheuser-Busch, however, took issue with the Washington Post's characterization of the company on a call with Jezebel on Thursday.
"We believe in and practice equal pay for equal work and we do have the data to support that," she said, noting that she was unable to get salary figures before the Post published. "If we didn't, we never would have deigned to put out a strong spot like this."
According to data provided by Weser via email, women make up 27.45 percent of Anheuser-Busch's U.S. workforce, and their median salaries are 99.6 percent of their male counterparts.
She also noted that the company had launched a number of programs in order to increase women's representation within the company, including a MBA program (and 60 percent of the 2015 class was female), an improved parental leave policy, and several peer mentoring programs for female employees.
There has also been progress made on the production side of things—of the 12 Budweiser breweries in the United States, five are run by female brewmasters.
During the call, Weser acknowledged the lack of women in leadership positions as a problem, and one that the company is actively trying to correct.
"This is something that, frankly, we're not satisfied with," she said. "We're not satisfied with the representation of women at the highest ranks of the workforce in general and certainly within our own workforce... That's why we've put significant financial support behind this Bud Light ad and campaign and also why we have programs like [these] inside our company."
On its website, the company boasts a No. 1 ranking among beer companies and No. 2 among beverage companies, and No. 2 for social responsibility in the beverage industry in Fortune's "World's Most Admired Companies" in 2010. It also advertises a number of employee resource groups, including Creating Real Opportunities for Women's Networking.
"Our position on equal pay has been very consistent over the years," said Bud Light vice president Alex Lambrecht in a statement to the Post. "We believe diverse perspectives are good for our business, and in equal pay for equal work."
That hasn't prevented the company from being sued. From the Post:
Francine Katz, an executive who was once Anheuser-Busch's highest-ranked woman, sued the company in 2009 when she learned that her base salary, of $360,000, was about 57 percent what her male predecessor had earned for the same job.

Two women, including Katz, served on the company's influential, 20-person strategy committee, and both were the committee's lowest-paid members, lawyers said. Katz only learned of the executive-salary difference after Anheuser-Busch was sold to InBev in 2008.

Katz lost her gender-discrimination suit in 2014 after jury members said they believed "the evidence was not enough to single out gender." The company said afterward that the verdict showed Katz "was always treated and compensated fairly during her 20 years of employment."
Katz ultimately lost the suit in 2014 because, according to the jury, there was insufficient enough evidence that the salary disparity was related to her gender.
One juror said he was swayed after seeing testimony from John Jacob, Katz's mentor and Anheuser-Busch board member, and former National Urban League president.
"As a close friend and mentor of Ms. Katz he said he never saw once, any form of discrimination against her in the company," said the juror, according to USA Today.
Anheuser-Busch is reportedly now fighting to get Katz to pay back their $60,000 of legal fees.

"Diversity and inclusion are part of our DNA as a brand, and as a company. Our position on equal pay has been very consistent over the years. Anheuser-Busch does not condone discrimination of any kind," said a company spokesperson in a statement to AdAge. "We believe diverse perspectives are good for our business. Anheuser-Busch has always been and will always be committed to treating our employees fairly. We have a fair, rigorous and gender-blind compensation process, which involves outside independent compensation experts."
Weser, for her part, repeatedly acknowledged that the beer industry has a way to go in terms of equal gender representation, but that the company was making its best efforts at reformation.
"It's a long game, not an overnight solution."
Have you had any experience working at Budweiser or Anheuser-Busch? Let us know in the comments or at tips@jezebel.com.