Oh hell yeah, my sluts. Very tight. Love to just remove "no" from the old vocab.
(You just never know when your teachable moments will hit you, and this beer label is making me realize—as a person saddled with a pretty #UpForWhatever temperament—that in my whole life, I have only really laid down the hard "no" in situations that involved unwanted sexual aggression. That's funny! Maybe I should have had more Buds!!?)
Anyway, I called Anheuser Busch for comment and spoke to a very nice man who told me that he "didn't really think we intended what is going on," and that there are multiple new beer labels associated with the #UpForWhatever campaign. We're waiting on further comment.
Ideally, what I'd like out of this is several free 30-racks and a promise that they will hire at least one woman or even one non-idiot to help out at the Budweiser copy desk: how many people do you think this label had to go through without anyone side-eyeing it to the grave?
G/O Media may get a commission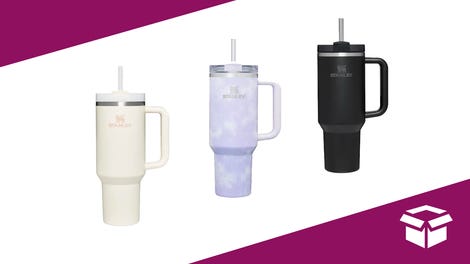 Up to 45% off
Stanley Cup Sale
Oh, by the way, I wrote this post in approximately 10 minutes, which means 5 humans in America were raped from the time I started till the time I was done :)
Updated to add Anheuser Busch's statement, from Alexander Lambrecht, VP of Bud Light:
The Bud Light Up for Whatever campaign, now in its second year, has inspired millions of consumers to engage with our brand in a positive and light-hearted way. In this spirit, we created more than 140 different scroll messages intended to encourage spontaneous fun. It's clear that this message missed the mark, and we regret it. We would never condone disrespectful or irresponsible behavior.
---
Contact the author at jia@jezebel.com.