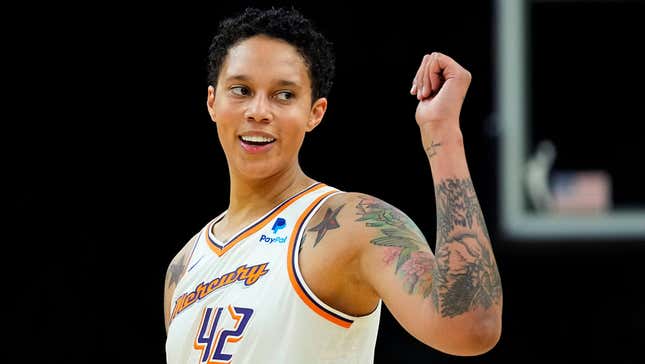 After nearly a year and a half, Brittney Griner is set to make her official return to the WNBA Friday.
Why Is Brittney Griner Being Detained In Russia?
Griner, who was unlawfully detained in Russia in February 2022 for ten months, played her last WNBA game with the Phoenix Mercury during Game 4 of the 2021 Finals. And while she played in the Mercury's final preseason game on May 12, Friday marks her official return to the court as the 2023 WNBA season kicks off.

For those who've followed Griner's journey to Russian prison and back, watching the star center take the court once more will surely be an emotional experience. Days after President Biden brokered a prisoner exchange to secure Griner's return home back in December, she declared she would resume play in the WNBA as soon as humanly possible. Five months on, that long-anticipated moment has arrived.

Though Griner has been practicing nearly since the moment she got home, fans have yet to see if she can make the athletic comeback she's been hoping and preparing for. As ESPN notes, Griner—a two-time WNBA Defensive Player of the Year—was part of the MVP conversation during the 2021 season. Whether she'll be able to pick up where she left off remains to be seen.

But in many ways, Griner's on-court performance is beside the point. Her mere presence back in the game is proof that the culture surrounding the league—which has struggled with revenue and player benefits for years—is shifting drastically. Griner's absence from the game underlined just how precarious the lives and safety of WNBA players really are: She was overseas playing for a Russian team because she did not make enough money playing for the WNBA alone. And, as the New York Times puts it, "the league is not the same now, in part because of her."
"We have wanted change for a long time, but now we're really starting to demand it," Minnesota Lynx forward Napheesa Collier told the Times. "We're just getting a little more impatient with that and realizing that it's an issue where we don't have the money yet, but pushing so that really, really soon we do have the resources to be treated like the athletes we are."

As a player, Griner is a bright spot in the WNBA, and ESPN's Josh Weinfuss reports that her renewed positivity can already be felt in the league and amongst her teammates on the Phoenix Mercury:

"Just her being around the team has raised the Mercury's spirits. There's a sense of relief that Griner is here, is home, is where her teammates can see her and hug her and high-five her and talk to her face to face. That's led to more positivity and more smiles. There's not a cloud of concern and unknown hovering over this team anymore like there was last season while Griner was locked up in Russia."

And hopefully, Griner will stay put in the league for many years to come.