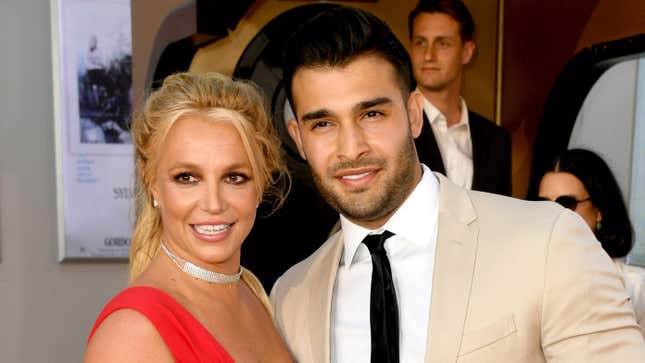 While Britney Spears is busy redefining the revenge dress for a new generation of divorceés, the torrent of information—or claims, really—about her divorce from Sam Asghari just keep on comin'.
Stars of 'Once Upon a One More Time' Test Their Britney Spears Knowledge
On Monday, Brit posted a video in a bright green body-con dress, white gogo boots, and slightly off-kilter aviators as a group of shirtless men (including her manager, Cade Hudson) lifted her into the air, and another licked her leg. "so what does a bitch like me do !!??!," she captioned the post. "I put my green dress on and show up at my friends !!! I invited my fav boys over and PLAYED ALL NIGHT !!!"

If there's anything positive to come of this divorce after one year of marriage, let it be this iconic line and, of course, Britney's freedom.

But the singer's post-conservator freedom may have been the thing that ended her six-year relationship with Asghari. Britney had previously said on Instagram that she "couldn't take the pain [of the relationship] anymore," while other sources alleged that Britney had cheated on Sam with a member of their household staff and gotten violent with him in his sleep. Now, yet another source is telling Entertainment Tonight that Sam's increasingly controlling nature was the straw that broke the camel's back.

"Britney could be argumentative at times, but also felt like Sam didn't let her do a lot of things without him," the source told ET. "Before Britney's conservatorship ended, Sam was very supportive. Once it ended, Britney felt very free, but that eventually changed based on certain dynamics in her relationship with Sam."

"Britney felt like things shifted in her relationship with Sam once her conservatorship ended. Before it ended, Britney was more in a set routine, but once she was free, a lot changed," a second source added. "Britney wanted to embrace her freedom and felt like Sam couldn't necessarily handle that. Britney will never let another person control her, and she felt like that was starting to happen again."

Granted, we don't have a ton of legitimate evidence of what really went down, but the narrative that Sam may have preferred Britney's lifestyle before the conservatorship fell checks out. With a conservatorship still intact, Sam would have less of a direct caretaking role and more of the shiny benefits of existing as a pop icon's full time plus one. He'd get the fun parts of Britney while others handled the ins and outs of her schedule. Plus, the idea that a man might be unsettled by a woman newly embracing her freedom is sadly nothing new!

Rest assured, Britney has said on IG that she's "doing pretty damn good." And lucky for Sam, details of their divorce will not be featured in her upcoming memoir.