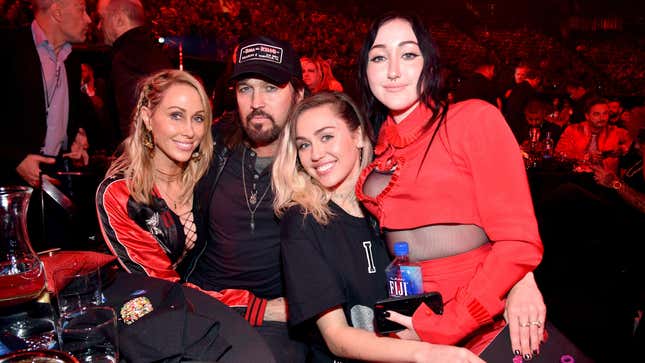 The Cyrus family are no strangers to drama—especially given that Tish and ex-husband Billy Ray Cyrus, parents of pop stars Miley and Noah Cyrus, filed for divorce three times before the uncoupling finally stuck. But this week's family dramz seems to be hitting all time high levels of pettiness in the wake of Tish's newly-minted marriage to Prison Break actor Dominic Purcell over the weekend.
Page Six reports that the new-ish couple, who made things Instagram official in November of last year and got engaged in April (that's exactly one year after Tish and Billy Rae called it quits), tied the knot in an intimate ceremony in Malibu on Saturday. In aerial paparazzi photos, you can see five people on each side of the bride and groom, the bridesmaids dressed in powder blue.

I will tell you momentarily which of the offspring were in attendance at this wedding, but first, a quick family tree study: Tish and Billy Ray Cyrus were married for almost 30 years, during which they had daughters Miley, 30 (pop star), Noah, 23 (pop star), and a son named Braison, 29 (not a pop star). From a previous marriage, Tish also has a son named Trace, 34 (not a pop star, but kind of a rockstar), and a daughter named Brandi, 36 (not a pop star, but a horse girl), though Billy Ray adopted them both in 1993 after he and Tish wed.

Back to the mess: Miley, Trace, and Brandi were all in attendance at the wedding and stood next to their mother as part of her bridal party. But Billy Ray, Noah, and Braison were nowhere to be found. Well, actually, Noah and Braison were technically found…shopping at a Walmart and posting shading Instagram stories far from Malibu and the wedding. Noah posted several stories about having a "sleepover" with her brother Braison, who "flew out" just to see her. In one of those stories, Noah is sporting a T-shirt with Billy Ray's face on it. Perhaps returning the subtle shade, Trace posted an old photo of Tish holding only Trace, Miley, and Brandi as babies.

We don't have a solid reason as to why Noah and Braison wouldn't show up for their mom, other than the assumption that they appear to be Team Billy Ray (a choice, if you ask me, considering the man is engaged to someone named Firerose who is roughly Miley's age). After Tish filed for divorce from Billy Ray last year, Noah reportedly blocked her mom on Instagram—though they follow each other now.

As of writing:

Miley does not follow Billy Ray, but does follow Braison and Noah
Braison does not follow Tish, but does follow Miley
Noah follows both Tish and Miley
Billy Ray does not follow Tish or Miley, but does follow Noah and Braison
Tish does not follow Billy Ray, but does follow Noah and Braison
I cannot imagine my father unfollowing me on Instagram!!! It is, in my opinion, the pettiest of all petty moves. But anyway, happy wedding day to Tish. Hope the kids will at least send you a text back.