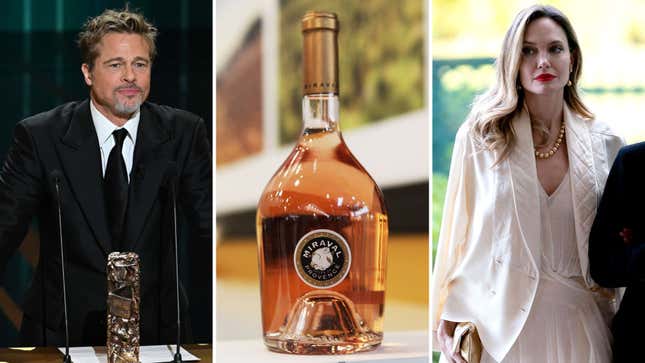 Many a white woman has blamed rosé for bad behavior at some in point in her life. And as it turns out, the divine drink also played a role in the demise of one of the world's most fairytale-looking marriages.
Crush of the Week: Daniel Radcliffe's Weird Al
On Tuesday, an exhaustive Vanity Fair report told the complicated story of Brad Pitt and Angelina Jolie's brief love affair with Château Miraval, a vineyard nestled in the valley in the French village of Correns. It was there, far from Hollywood's intrusive, impractical conditions, that the former couple fell deeper in love and dedicated themselves to fostering a normal life, or the obscenely rich people equivalent, for their growing family. From start to finish, the VF report spares no detail—from Pitt's installation of a petting zoo at the estate to Jolie's later claims of abuse—and reveals the most brow-raising insight into why their love died on the vine. Which is, in short: rosé.
It all started when Pitt and Jolie, then in search of seclusion, purchased Miraval in 2007 after touring more than a dozen properties in southwestern France. Wine had been produced at the estate for several years, but after Pitt and Jolie moved in—at the beginning of the rosé boom—it became what's now described as a commercial enterprise complete with a genderless skincare line.
Though Pitt reportedly knew very little about wine, he soon became interested in assisting its former owner and winemaker, Tom Bove, in Miraval's production and distribution. According to a famed furniture designer and acquaintance of Pitt's, Frank Pollaro, Pitt confided in him that the vineyard was losing "close to a half million euros a year" and wanted his assistance in finding a solution, given his expertise in wine. Pitt and Pollaro then began meeting with prominent French winemakers to bring on a consultant that would lend a hand in making Miraval more of an industry heavyweight. Enter Marc Perrin, the CEO of Famille Perrin and fifth-generation winemaker, who instead suggested a joint venture to Pitt. As VF puts it: "Soon after that, Perrin said what would turn out to be the magic word: rosé."
Years before rosé spawned a thousand Etsy pages, the wine was regarded as the "neglected stepchild" of the wine world and considered to be "cheap and cheerful." That was, until, Sacha Lichine's Whispering Angel became the #1 best-selling French wine in the United States. Perrin, the report states, had long been trying to find an in-road to cash in on the rise of the pink blend.
"Let's approach it like a film, and let's make something we can be proud of," Pitt reportedly said to Perrin after he and Jolie tested a number of competitors. "Most rosés are just light," Perrin told Wine Spectator. "Our idea was that it also had to be juicy and fleshy and fresh."
Pitt and Perrin's collaboration—labeled "Bottled by Jolie-Pitt & Perrin"—launched on March 6, 2013, and became an overnight hit. According to Vanity Fair, within five hours, the first 6,000 bottles of Miraval Rosé 2012 had sold out. "It was like strapping yourself to a rocket," Pollaro told the publication of the Perrin family's successful distribution network. By 2021, revenue of Miraval Côtes de Provence rosé, reached $50 million.
Three years after the Miraval rosé hit the market, Pitt and Jolie were divorced. In addition to a contentious custody battle of their six children, the Miraval estate, was—as it remains to be—at the epicenter of the couple's proceedings, too.
"Even now impossible to write this without crying," Jolie wrote of Miraval in an email sent to Pitt in 2021 obtained by Vanity Fair. "Above all, it is the place we brought the twins home to, and where we were married over a plaque in my mother's memory. A place…where I thought I would grow old….But it is also the place that marks the beginning of the end of our family."
She added that though she tried to "stay open to the business," she had "seen lots of inconsiderate behaviour, money spent in ways that I would not have approved, and decisions made that I was not consulted on." Their visions for Miraval, she wrote, were no longer aligned, nor did she feel like an active participant in its stewardship, therefore, she would either join him in selling the estate, or accept "a complete buy out of my share in the property and business."
Pitt chose the latter, and in February 2021 they reportedly agreed that he would pay his ex-wife $54.5 million for her entire interest, in addition to undistributed profits. However, their reported deal fell through for a separate reason: When she filed a sealed document that offered to prove her allegations of domestic violence as part of the former couple's child custody proceeding, Pitt responded by demanding an NDA. In Jolie's cross-complaint, she called the move "an unconscionable gag order."
Ultimately, Jolie sold her 50% stake in Miraval to a subsidiary of Stoli Group (notably controlled by a Russian billionaire who Pitt's legal team has insinuated is a Putin ally), and Pitt claimed to be "blindsided" by the sale. In 2022, Pitt sued his ex-wife and Nouvel, the holding company that held her shares. Jolie swiftly responded with a cross-complaint that laid bare Pitt's alleged abuse during the infamous incident aboard a private plane in 2016. In it, she claimed that she never spoke of what prompted their divorce nor her decision to sell her Miraval shares, "but when Pitt filed this lawsuit seeking to reassert control over Jolie's financial life and compel her to rejoin her ex-husband as a frozen-out business partner, Pitt forced Jolie to publicly defend herself on these issues for the first time."
"Pitt's passion—and a profitable one, as Miraval, under Pitt's stewardship, has grown into a multimillion-dollar global business and one of the world's most highly regarded producers of rosé wine," Pitt's suit against Jolie states. Yet, this month, Pitt filed an amended complaint in a bid to reverse Jolie's sale of her shares. Since its acquisition to the Stoli subsidiary, it argued, Miraval has been under "constant attack." Regardless, its success doesn't seem to be impacted. In May, Miraval was named the "Most Desirable Provence Rosé Wine in the World," ranking number one of the top 33 Provençal vineyards by Le Figaro magazine.
When considering how very crowded the market has become these days, Miraval seems to be doing just fine. Pitt and Jolie, on the other hand, are very much no longer living la vie en rosé.