Perhaps Brad Pitt's new routine of Bon Iver, sculpture and vaping is responsible for this heartening bit of news: it seems that he's having "cordial conversations" with Angelina Jolie after nearly six months of acrimonious silence.
It seems that time has made all the difference and now the two are "in a place where they can put anger or hurt aside to focus on their children and how they plan to coparent," as per one of Us Weekly's three sources on this subject. This fact alone isn't surprising — they had to eventually talk to each other at some point in order to get this shit behind them and move on with their lives.
Also unsurprising is that it was Angelina who reached out to Brad, piercing the thick haze of his local dispensary's finest indica hybrid and his mopey sadness to drag him back to reality. He was open to it because "he knows what's best for the kids," a second source said, but they're only discussing the kids and their well-being for now.
"They have made taking care of the children a priority and they are still figuring out everything else," said the third and final source. While I welcome the notion of a sad Brad sculpting and singing softly to himself between bong rips forever, I'm glad that the two of them are getting close to working something out.
---
If you were paying close attention at this year's Academy Awards, you might have noticed Ryan Gosling "giggling" during the commotion that ensued when Warren Beatty accidentally presented La La Land the award for Best Picture instead of Moonlight. Was he laughing because the mistake was funny? Because he was thinking that La La Land didn't deserve it? Because someone on stage farted?
G/O Media may get a commission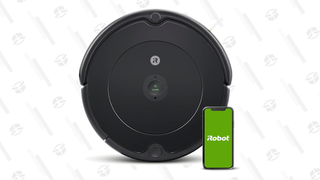 35% Off Black Friday Deal
iRobot Roomba 694 Robot Vacuum
Here's the real reason why:
"What really was happening as I was watching, it was surreal anyway, I was watching people start to have this panicked reaction in the crowd and guys were coming on with headsets and I felt like someone had been hurt," the 36-year-old actor told Adobe CMO Ann Lewnes at the Adobe Summit in Las Vegas on Wednesday.

"I thought there was some kind of medical situation, and I had this worst-case scenario playing out in my head," he added. "And then I just heard Moonlight won and I was so relieved that I started laughing."
That checks out. Carry on, Gosling.
[People]
---