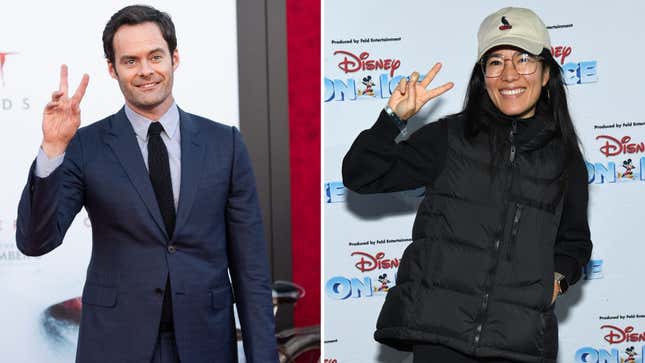 If at first you don't succeed, give it about five months and try again. I don't really know if that's solid advice, but it seems to be what Bill Hader and Ali Wong are doing, so there's that!
Lucien Laviscount Dishes on Red Flags and Romantic Deal Breakers
The first reports of Hader and Wong's initial fling actually came after the fact. In December, an insider source told Page Six that the two had been an item earlier in the year for about two months. "They're no longer dating. They dated very briefly. They're just super busy with things, but [the split] was certainly amicable. They're certainly friends," the insider said.
Fast forward a few months to present day, when Hader told People in an interview that he was in desperate need of a vacation now that his show Barry is coming to an end. "My girlfriend and I were talking and she brought it up that I haven't had a vacation in 10 years, so I think I need to go," he said.
Hader, being the tight lipped, big dicked man that he is, didn't mention his girlfriend by name. But the investigative efforts of US Weekly (they emailed his publicist) revealed (his publicist confirmed) that Wong is the vacation-pushing girlfriend in question.
Previously, Hader had been linked to Rachel Bilson, who has been more than willing to indulge the public in tales of their private life. Before that, he dated Anna Kendrick for about a year after his divorce from Maggie Carey, his wife of 12 years. He and Carey have three daughters. Wong recently split from her husband of eight years, Justin Hakuta, with whom she shares two daughters.
May these two hot comedians with buzzy TV series vacation somewhere relaxing and remote. But not so remote we don't get a few paparazzi pics of them smooching in the waves. Is that too much to ask? Is it?!
---