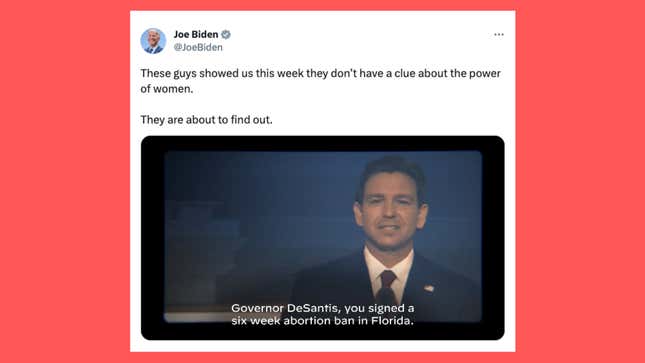 After dragging Republicans for their unpopular anti-abortion stances ahead of the primary debate Wednesday night, President Joe Biden's campaign wasted no time cutting a new ad on the subject with a fresh footage from the debate itself.

The Filibuster is Standing in the Way of Abortion Access
The campaign released a one-minute ad called "These Guys" highlighting top GOP candidates like Donald Trump boasting about the end of Roe v. Wade and Sen. Tim Scott (R-S.C.) supporting a national abortion ban. It includes a clip of Florida Gov. Ron DeSantis (R) from Wednesday responding to a debate question about the six-week ban he signed into law in Florida and whether he would push for that as president. DeSantis dodged it by saying he was "proud" to sign the bill, adding, "I believe in a culture of life." (He then told a bizarre story about a woman named Penny who claims a doctor left her in a pan as a fetus after she survived "multiple abortion attempts.")
Here's the ad, which the president shared on Twitter (I'm still not calling the platform whatever Elon Musk wants to call it, and, yes, it's also on YouTube).
It's fitting that the Biden team would pick up on that debate moment to highlight. A New York Times analysis of the debate found that abortion was the most-discussed topic, even more than chatter about Trump. (Abortion clocked almost eight minutes of air time, with Trump himself getting just shy of seven minutes.) Ahead of the debate, the Biden campaign bought pro-abortion digital ads on the website of Fox News, which hosted the event.

Biden campaign manager Julie Chávez Rodriguez said in a statement to NBC News that Republicans "boasted about their support to strip women of the right to make their own health care decisions." Chávez Rodriguez said the ad is "the first of many" to showcase the GOP candidates' "extreme, losing positions."
The new ad aired on MSNBC and will run online as part of a $25 million effort to target women voters in seven battleground states: Arizona, Georgia, Michigan, Nevada, North Carolina, Pennsylvania, and Wisconsin.