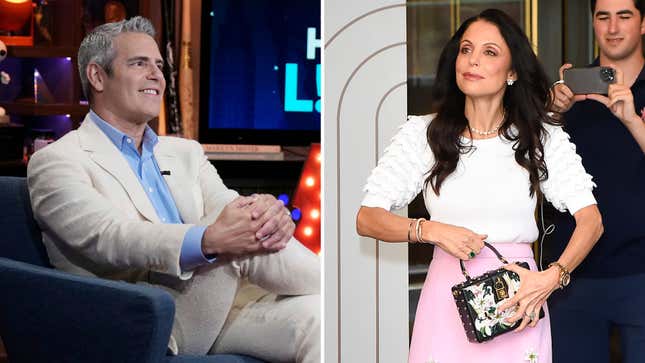 One thing about Bethenny Frankel? Whether it's posting chaotic videos of herself eating shellfish or calling for reality television talent to unionize, the woman just doesn't quit. And she doesn't give a shit what anyone online—or at Bravo, for that matter—thinks.
Raquel Leviss Told Us 'I'm Like, A Good Person' Just 48 Hours Before #Scandoval
During a recent appearance on Rob Lowe's podcast (yes, that's a thing), Literally! With Rob Lowe, the entrepreneur and former Real Housewife of New York told the actor that she'll continue pushing reality television stars to unionize regardless of the enemies it's making her at the network that once employed her—even former friend and boss, Andy Cohen.
"But I can tell you with great certainty that everyone at Bravo likely despises me, including Andy Cohen, because it's very personal and because they have to protect the realm," she said.

Frankel's urges to unionize began in late July when she hopped on Instagram and ranted that amid the ongoing SAG-AFTRA and WGA strikes, it's time for reality television talent to advocate for themselves.
"Hollywood is on strike. Entertainers are fighting for residuals, and no one will promote anything. Why isn't reality TV on strike?" Frankel asked via her Instagram stories. Then, she took it one step further. As reported by Variety, Frankel sought the counsel of two high-profile attorneys, Bryan Freedman and Mark Geragos, to "investigate the treatment of reality stars."
By early August, Freedman and Geragos sent a letter to NBC outlining a number of accusations made by an unnamed group of current and former reality stars who've appeared on Bravo programming (none of which have yet come forward despite Freedman and Geragos' claims many more have joined Frankel). Such alleged "grotesque and depraved mistreatment" includes:

— Deliberate attempts to manufacture mental instability by plying cast members with alcohol while depriving them of food and sleep

— Denying mental health treatment to cast members displaying obvious and alarming signs of mental deterioration

— Exploiting minors for uncompensated and sometimes long-term appearances on NBC reality TV shows

— Distributing and/or condoning the distribution of non-consensual pornography

— Covering up acts of sexual violence

— Refusing to allow cast members the freedom to leave their shows, even under dire circumstances
Frankel has since railed against the non-disclosure agreements that those who appear on Bravo programming must sign. The network has insisted that confidentiality clauses are solely to prohibit any storyline leaks. To Lowe, Frankel begged to differ.
"Like they can't just exploit people with these unrealistic NDAs," she said. "So it's a very complicated thing I walked myself into whilst also burning bridges and seeming like I'm biting the hand that fed me, but I fed myself. There are a lot of people who didn't get fed."
While Frankel's efforts haven't exactly been publicly embraced by her fellow peers at the network (housewives or Cohen, allegedly), she has managed to snag SAG-AFTRA's support: "We stand ready to assist Bethenny Frankel, Bryan Freedman and Mark Geragos along with reality performers and our members in the fight and are tired of studios and production companies trying to circumvent the Union in order to exploit the talent that they rely upon to make their product," the guild wrote in a statement.
"I have come out on top, made all this money, been the shining example of being successful on reality TV with all these other casualties whose lives have been destroyed," Frankel told Lowe. "And instead of just counting my money and not pissing anybody off, I chose to, you know, shake that whole thing up and burn bridges and torch the kingdom Khaleesi style."
Cohen hasn't commented on the Khaleesi of it all, but I can't wait until he does.