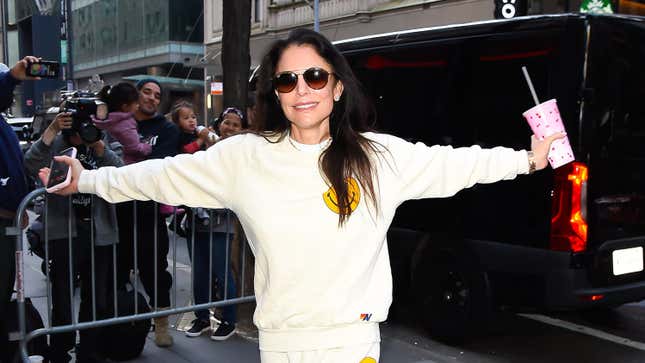 Let it be known that if Bethenny Frankel knows how to do anything well it's capitalize on the current news cycle. Fortunately, this time it's for good (instead of annoying-bordering-on-bad, like her incessant chatter about Meghan Markle) the entrepreneur and former star of Real Housewives of New York City is now urging reality television stars to advocate for themselves amid the ongoing SAG-AFTRA and WGA strikes.
Heather Dubrow Says She Felt 'Blindsided' By This Season of 'Real Housewives of Orange County'
"Hollywood is on strike. Entertainers are fighting for residuals, and no one will promote anything. Why isn't reality TV on strike?" Frankel asked via her Instagram stories on Wednesday. "I myself have generated millions and millions of dollars in advertising and online impressions being on reality TV and have never made a single residual. So, either I'm missing something or we're getting screwed too."
Frankly, if anyone could successfully rally reality TV talent—who will no doubt be expected to fill the culture void as writers and actors are on strike—it's Frankel. She's often spoken about the fact that, at the time she joined the popular Bravo franchise in 2008, she was paid just $7,250 for the entire season—and hasn't been given a cent since (even though it's currently streaming on Peacock). The startlingly low wages and refused residuals are made all the more egregious considering Frankel is perhaps one of the most famous—and lucrative—housewives in network history.
Of course, Frankel's salary swelled exponentially throughout her time on the show thanks to her Skinnygirl cocktail empire—so much so that her entrepreneurial success coined a little thing now known as "The Bethenny Clause." Because Frankel refused to sign off on a stipulation that allowed Bravo to take a cut of her multimillion dollar brand's profits, she was famously never forced to fork over any of it to the network. The clause requiring cast members fork over a percentage of anything they earn is now common in many reality TV contracts—because network execs don't want to miss out on the fruits of any other reality TV star's labors, naturally.
"So through blood sweat and tears I worked my ass off to justify the $7,250 paycheck for multiple episodes in 2008—episodes that are still being used for monetization in 2023—where two entities are profiting and I am not," Frankel went on to vent. She also name-dropped the stars of other beloved franchises like The Bachelor and The Hills who get "paid peanuts" despite the fact that episodes from years ago are available to stream.

"It's complete and total bullshit," Frankel said. "It just occurred to me, everyone is talking about actors and we don't get paid shit."
Frankel's diatribe didn't stop there. On Thursday morning, she posted a series of new videos, telling her 3.2 million followers that she'd already received "hundreds" of messages from frustrated reality television stars who'd like to better advocate for themselves when it comes to raised wages, residuals, and more.
And Frankel appears game to become Norma Rae: "I've come up with a list of terms that reality talent will be asking networks for currently, in the future, and retroactively," she said, instructing any current and former "reality star losers" who are down with the cause to DM her so she's able to have a list prepared when she eventually approaches the powers that be. "Networks and streamers, we're coming in hot too."
"There's a reckoning coming," Frankel warned. "And I don't know what it looks like, but it doesn't look good."
The exact terms, she said, will soon be announced on TikTok and Instagram...after she powders her nose and runs a comb through her hair. "I would not like to look like this when I say something that could be historical," Frankel jested, alluding to her bare face and bedhead.

Solidarity, Ms. Skinnygirl.
---