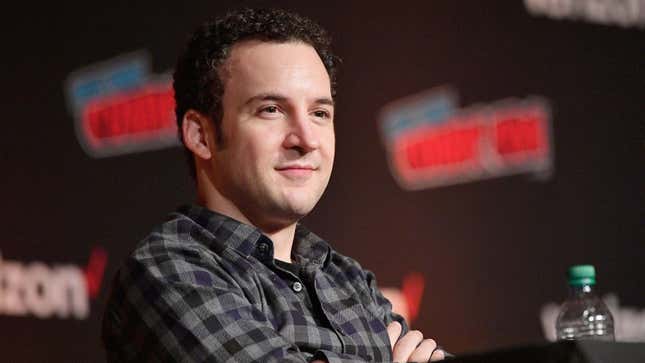 I wasn't prepared to have my childhood heart shattered today but here we are: The cast of "Boy Meets World"—the hit ABC '90s series that gave me my first on-screen crush, every life lesson I could ever need, and a to-this-day-longing for someone to say to me, "We're a masterpiece"—all still hangout...except for one.
Danielle Fishel, Will Friedle, and Rider Strong (that is, Topanga, Eric, and Shawn, respectively) told Variety that, despite their three decades of friendship, they haven't heard from Ben Savage in three years. The Ben Savage who played the lovable, dependable, and above all else, loyal Cory Matthews. "He ghosted us," Fishel said. Cory, what the fuck!
The three said Savage still hung out with them after "Girl Meets World" wrapped in 2017—but seemingly began distancing himself after the group talked about starting a rewatch podcast.
"He was very adamant that it was not for him," Fishel told Variety. "He was also very clear, 'I don't want it to stop you. If you guys want to do it, go ahead.'" But then Savage stopped showing up at reunion conventions and eventually "just kind of disappeared from our lives" Fishel said. (They did start their podcast though: Pod Meets World launched in 2022.)
Fishel added that Savage had been there for her in 2019 when her son was born early and spent time in the NICU: "We were just so, so close, especially during that time. He was checking in with me regularly."
Even more heartbreaking is reading about Friedle's attempts to figure out what went wrong. "He disappeared — I wish I knew why, to this day," he told Variety. "We didn't have a fight. There's no falling out. There was no animosity. He just woke up one day, and decided I don't want this person in my life anymore."
Friedle said he tried to get in contact with Savage for weeks:
I finally sent a text saying, "I've known you for 30 years, what's going on?" I said, "I'm gonna call you every day until you tell me not to call you anymore." That lasted about three weeks or a month, every single day. I've known him since he was 11 years old, and we have a shared history. And we were doing these conventions together, and we were getting to know each other as adults, and then he just kind of went, I'm done with you. I tried and tried and tried for months, until finally my wife was like, "Why are you doing this to yourself? He obviously doesn't want you in his life."
Savage is currently running as a Democrat in California's 30th Congressional District to replace Rep. Adam Schiff (D), who's running for Dianne Feinstein's open Senate seat. That's not my district or my state, but I would not vote for the former Boy Meets World star who ghosted his beloved co-stars! What kind of candidate is that??
"Speaking for myself, Ben and I may be estranged right now and we may have our complaints about each other, but I will always love Ben and want what's best for him," Fishel added. "I don't think this is the end of our story—but time will tell."
In the wise words of Mr. Feeny (played by William Daniels, who, by the way, is still in regular contact with everyone despite being well into his 90s!), "Regardless of hurt feelings, it's always advisable to keep the line of communications open." I don't know what happened Benny Boy, but Cory Matthews definitely wouldn't have tolerated this passive aggressive shit. Call your fucking friends!