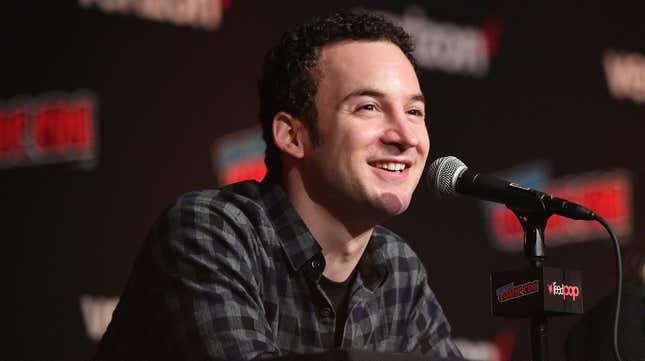 There was Ronald Reagan. There was Arnold Schwarzenegger. And now there's Ben Savage, pivoting from an acting career to being a California politician.
Savage, better known as Cory from Boy Meets World, announced Monday on Instagram that he's running for the House of Representatives in California's 30th district—an area around West Hollywood that includes Burbank and Pasadena—to replace Rep. Adam Schiff (D), who's now running for Dianne Feinstein's open Senate seat.
"I'm running for Congress because it's time to restore faith in government by offering reasonable, innovative and compassionate solutions to our country's most pressing issues," Savage wrote. "And it's time for new and passionate leaders who can help move our country forward. Leaders who want to see the government operating at maximum capacity, unhindered by political divisions and special interests."
As ABC News notes, Savage has long showed an interest in politics, "having studied political science at Stanford University, where he graduated in 2004. He also interned for Pennsylvania Sen. Arlen Specter, then a Republican, in 2003." But he's running as a Democrat. I truly can't tell you why Ben Savage could ever win this or any seat in Congress—as he already lost a bid to be on the West Hollywood City Council in the 2022 election—except for having name recognition among those who watched TLC in the 90s (like myself).
His entire statement upon running for Congress, honestly, is just word salad: "I am a proud Californian, union member and longtime resident of District 30 who comes from a family of unwavering service to our country and community," he wrote in his Instagram post. "I firmly believe in standing up for what is right, ensuring equality and expanding opportunities for all." OK. We still know exactly nothing about your principles or ideas or how you'd vote on anything—this all could've been written by an AI chatbot—but I guess being a child star gives you a leg up?
More interestingly, Savage's announcement comes on a day when another Boy Meets World actor also made news out of the blue: Matthew Lawrence is now dating TLC's "Chilli" as of roughly December, and the two say they are planning to have a baby. They are the 90s couple of my horny teen dreams, and if you take anything from this post, please make it be this last paragraph.