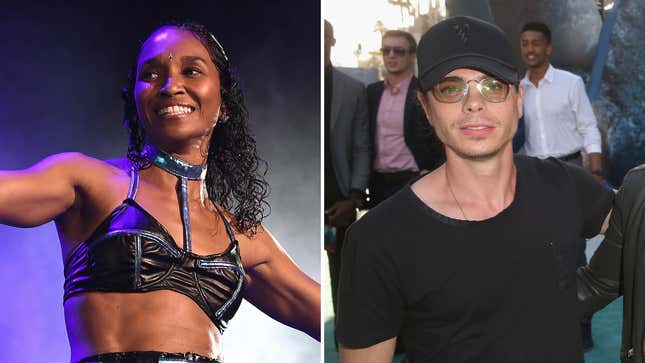 Actor Matthew Lawrence has a "game plan" with his new girlfriend and fellow 90s heartthrob, Rozonda Thomas aka "Chilli" of the band TLC, to have a baby. Lawrence is 43 and Chilli 52, but nevermind their ages, as more and more celebs are conceiving and having babies past 45 these days.
Crush of the Week: Daniel Radcliffe's Weird Al
"Life is always a surprise," Lawrence told ET on Friday. "My life is in a complete bloom right now. I get to spend time with an amazing woman like Chilli."
Unfortunately, the Boy Meets World actor couldn't use the opportunity to gush about his new lady love without being a dick about his ex-wife. "I've never gotten to be able to experience that kind of relationship before, so it's quite special," Lawrence told the entertainment news show.
Lawrence's last relationship was tabloid fodder. He married Dancing With the Stars pro Cheryl Burke in 2019. In February 2022, Burke filed for divorce, and by September the divorce was finalized. They would honor the prenup but go to court for custody of their dog Ysabella, according to the Los Angeles Times.
Lawrence and Chilli became Instagram grid official just this past New Year's Eve in what sure looks like a PhotoBooth recording we all made during free period freshman year in high school. "[Chilli is] a really, really special human being. I wish more people on the planet were like her. We'd be much better off," Lawrence said.
When the pair went public, Chilli's camp was very supportive. "Chilli and Matthew are dating and spent Thanksgiving and Christmas in Atlanta, where Matthew met Chilli's family," Christal Jordan, the rapper's longtime rep, told ET in January. "I've been with Chilli since 2005 and I've never seen her this in love. She is glowing. They are really cute together."
Good for them. Many of us had had crushes in our adolescent years on both Matthew Lawrence (plus his brother Joey) and Chilli, arguably the hottest member of TLC. The 90s are back in full force, babes!