If you've been wondering what Ben Affleck's been up to these days, here is your answer. Rehab. He was in rehab, but now he's out.

"I have completed treatment for alcohol addiction; something I've dealt with in the past and will continue to confront," he wrote in a Facebook post announcing his stint Tuesday evening. "I want my kids to know there is no shame in getting help when you need it, and to be a source of strength for anyone out there who needs help but is afraid to take the first step."
According to TMZ's sources, Affleck reportedly entered rehab immediately after the Academy Awards a few weeks ago and that the decision to do so was all his. Despite reports that Jennifer Garner was finally moving forward with the divorce that she's been dangling over his head for two years, they are possibly pumping the brakes on that for the moment.
"I'm lucky to have the love of my family and friends, including my co-parent, Jen, who has supported me and cared for our kids as I've done the work I set out to do," he wrote. That's great. I'm glad he went to rehab. I'm glad he recognized he needed help and then got it.
Will they eventually get divorced? Yes, probably. How much longer will they do this will-they-or-won't-they dance? Longer than I'd like to think about.
G/O Media may get a commission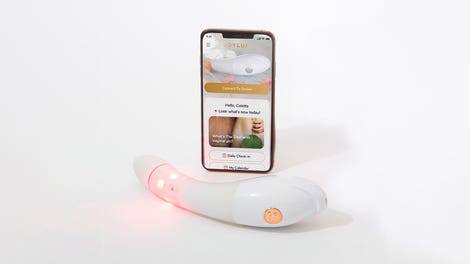 $50 Off
Joylux vFit Gold Device
[TMZ]
---
Apparently there exists a sex tape of Mischa Barton somewhere out there. It's being shopped around to various pornography operations, but People reports that Barton's done the right thing and lawyered up.

"There's a name for this disgusting conduct: revenge pornography," writes her lawyer Lisa Bloom. "Revenge pornography is a form of sexual assault, and it is also a crime and a civil wrong in California. And we will not stand for it."
Sources who have viewed the tape told The Daily Mail that it's "clearly" her and the tape is reportedly being offered at a $500,000 starting price. While I'm sure there are many scuzzos who would like to get their paws on this thing, I wish them the best of luck, because Mischa's lawyer did not come here to play.
"I have a message for anyone who attempts to traffic in these photos or videos of Ms. Barton: we will find you, and we will come after you. We will fully prosecute you under every available criminal and civil law. You proceed at your peril."
[People]
---
Just another friendly reminder that Chrissy Teigen and John Legend's baby Luna is a very good celebrity baby.
---
Rugged and handsome man Charlie Hunam won't watch any of the godawful Fifty Shades of Grey movies because of the "traumatic" experience he had after having to pull out of the film due to a scheduling conflict. [Refinery29]

Dax Shepard accidentally taught his baby to say "fuck" but he's proud because she's "nailed the syntax." [People]
Oh man, Steve Harvey needed armed guards after that whole Miss America mistake. [Fox News Entertainment]
Emma Watson wore a dress. It was yellow. Like Belle. Yep. That's it. [Us Weekly]