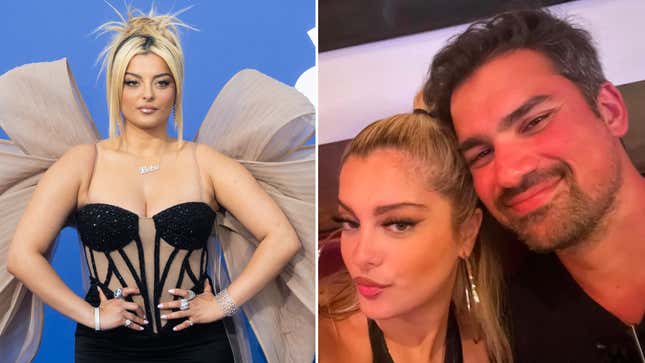 There seems to be something in the water, as boyfriends of hot, famous women just can't seem to stop fumbling and exposing themselves as of late. First, it was Keke Palmer's boyfriend publicly shaming her for what she wore to an Usher concert; next, Jonah Hill was outed for controlling and emotionally abusing his surfer ex-girlfriend; then, it was "failed rapper" DDG who had the gall to publicly slut-shame his girlfriend, Halle Bailey, under the guise of sad-boy insecurity on a new track.

Zolita Wants To Be The Queer Femme Popstar She Needed
All of that takes us to this week, with Bebe Rexha on Sunday sharing a screenshot of a lengthy text which appears to be from her boyfriend Keyan Safyari. In the text, posted on Instagram, Safyari appears to express disappointment with the singer's "35 pound" weight gain.
"I never said you weren't beautiful and I never said I didn't love you… But I always said I would be honest with you and your face was changing so I told you it was," Safyari wrote. He continued, "You gained 35 pounds obviously you gained weight and your face changes? Should I just pretend it didn't happen and that it's ok?"
The text message seems to allude to a broader, previous conversation between the two about Rexha's body, which comes after Rexha spoke about her struggles with body image—particularly after being diagnosed with polycystic ovary syndrome (PCOS) and consequently gaining weight—on The Jennifer Hudson Show earlier this year. On the show, Rexha said she'd "jumped 30 pounds so quickly, maybe a little more," and added, "You don't know what somebody's going through, what they're going through in their life, so it kind of is tough. But I feel like we're in 2023 … we should not be talking about people's weight."
It's not clear where her relationship with Safyari currently stands; reps for Rexha and Safyari didn't immediately respond to requests for comment from Jezebel. But the screenshot shows Safyari writing to Rexha, "If you're trying to find reasons to break up this makes sense...but it's not the real reason. If you're unhappy with me/yourself/with life and don't see a future with us then that's ok and that's the reason."
"Don't use something like that to weaponize your anger or anxiety or any insecurity you may have," he wrote. He then suggests that Rexha "think about things and write things down, speak to a therapist and do this retreat thing to get to the root of the problem." Elsewhere in the message, Safyari accuses Rexha of being critical of his weight sometimes, too: "I gain 3 pounds and you call me chubbs and fat."
Look—we're all just outsiders looking in at a three-year relationship and will never be familiar with all its complexities. But I can only imagine how hurtful it must be to face constant online harassment about your body and weight from social media users, which Rexha has previously spoken about struggling with, only to receive similar commentary from a partner.