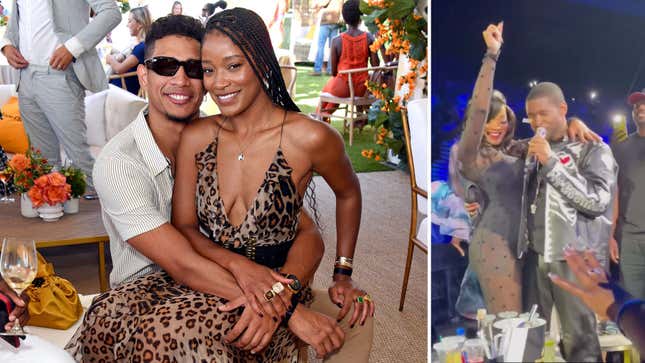 It's a tale as old as time: A successful, savvy, triple-threat of a woman falls for an average guy, bears a child, remains the breadwinner, and for one night attempts to enjoy herself at a concert. Meanwhile, average guy lurks on Twitter, happens upon a video of his partner looking sublime in public, and replies with something he well and truly believes is an insult: "You a mom." She's everything! He's just the as-good-as-anonymous brother of a much finer man who was on a great HBO show once. You get it.
The Johnny Depp and Amber Heard Defamation Trial Has Begun
Yes, I'm talking about Keke Palmer and someone called Darius Daulton, who, fortunately for him, is apparently her boyfriend and the father of her child. In a series of tweets on Wednesday, Daulton decided it was his duty to publicly shame his partner for attending Usher's Vegas Residency with her friends while she happened to be wearing a hot LBD. First, he quote-tweeted a video of Palmer having what looks to be the time of her life with Usher (ironically dancing to "There Goes My Baby"), writing: "It's the outfit tho.. you a mom."
So, let me get this straight: This man—whose IMDb profile might as well just be deleted—couldn't just remain silent and take care of their child in the home his very famous, very paid partner is on the deed for? That's separation-from-society level stupidity.
It got worse. Four hours later, he doubled down. "We live in a generation where a man of the family doesn't want the wife & mother to his kids to showcase booty cheeks to please others & he gets told how much of a hater he is," Daulton tweeted. "This is my family & my representation. I have standards & morals to what I believe. I rest my case." OK, Mr. Man of the Family (read: personal trailer)—are you aware of how the internet works? We don't let shit like this rest! This case isn't even due for a cat nap until next weekend.
A brief Twitter investigation of this man immediately revealed some profoundly problematic receipts in the form of liked tweets. Some examples: This tweet that refers to Tracie Ellis Ross as a "female loser" for posing topless; this tweet in support of Jonathan Majors; this tweet bemoaning "IG whores"....need I go on? Scratch a misogynist, and you'll find a rape apologist and worse.
While Palmer has yet to publicly address her partner's unneeded commentary, she did post a series of flawless photos from the night on Instagram in the midst of it all, writing that she wished she'd taken "more pictures." Is that a subtle way of saying she wished she'd also let Ursher baby grind on her a little harder? I like to think so! "There Goes My Baby" takes on a whole new meaning now, doesn't it?

Darius Daulton, we hardly knew thee. Now, we know far too much.

---