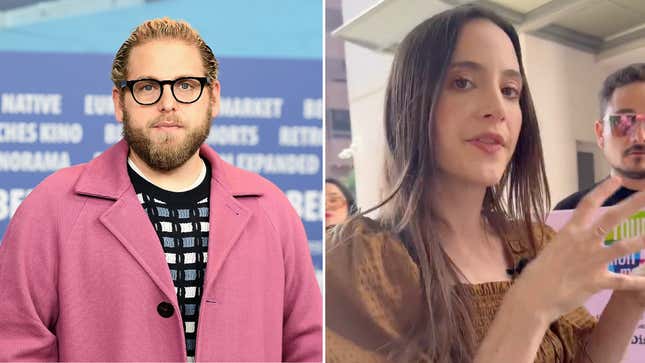 Shortly after Jonah Hill's ex-girlfriend accused him of emotional abuse over the weekend, former child actor and Zoey 101 star Alexa Nikolas accused Hill of assaulting her years ago. In a series of tweets, Nikolas alleged Hill forced himself on her at a party hosted by one of his friends, actor Justin Long, when she was just 16. According to the AV Club, given Nikolas' current age, the party must have taken place around 2008. Hill would have been 24 at that time.

"I just gotta say when I was 16 I got invited to a house party at [Long's] house where he was living with some lame predator actor from CSI Miami," Nikolas wrote, referring to Long's then-roommate Jonathan Togo. Nikolas claims Togo "was sleeping [with] *aka assaulting a minor* a friend of mine that was also 16 or 17" at the time.
Nikolas alleged that the adult men at the party knew she and her friends were minors, and that they "were all pretty wasted because of course the predators were feeding us minors a bunch of alcohol." She noticed Hill "seemed to have his eyes on me," and then approached her, instructing her to follow him to his car outside for a cigarette. "They were all aware I was 16," she wrote.
After going to Hill's car with him, Nikolas said he didn't offer the cigarette he'd promised, and alleged that, "as we walked back to the door I asked him for it and he said nothing but slammed me to the door and shoved his tongue down my throat." Nikolas recalls being "appalled," and said she "pushed him off of me and ran inside."
"Hey Justin Long I find it interesting you being in Barbarian as a predator," she wrote in a follow-up tweet, referencing the hit horror film Long starred in last year. "It must have been weird playing some of your friends. You knew your roommate was assaulting a minor under your own roof. You let it happen. Eek. I hope you regret it now."
Attorney Martin Singer, who is representing Jonah Hill in this matter, called the accusations "a complete fabrication" in a letter to Jezebel.
Nikolas has previously spoken about unsafe work experiences on the set of Zoey 101, which was created by Dan Schneider, who has been accused of mistreatment and other troubling behavior by former Nickelodeon child stars he's worked with.

These new allegation against Hill come after his ex Sarah Brady over the weekend shared a series of screenshots of texts that show him exerting alarming control over her life, including how she could dress, what photos she could share on social media, and even who she could interact with. Brady characterized his behavior as emotional abuse.
The allegations from both Brady and now Nikolas are in fairly stark contrast with the public image Hill has fostered: that of an evolved man who takes mental health issues seriously. Hill even created a Netflix documentary about his experiences in therapy that starred his therapist, which, in light of new accusations against the actor, has sparked a wave of online conversation about how "therapy speak" can be misused to mask harmful behaviors.
This story has been updated to include a comment from Martin Singer, Hill's legal counsel.