This week's Beauty 101 is focusing on packing the perfect getaway bag, be it for a week, a month, or just an overnight stay. You had questions, and, once again, your fellow readers have come through with the answers.
Your fellow readers have assembled quick essential lists for a variety of travel situations. A sampling:
Airport-Friendly Travel:
From commenter Roeroica:
I travel for work a lot and initially I packed a lot, but now this is what I take: Moisturizer, liquid foundation (so I can mix with the moisturizer), mineral foundation, blush, eye liner, mascara, and Clinique Like Mink shadow. It all fits nicely in one of those small giftbags that Clinique gives out too.

For Airport friendly, I just omit the moisturizer and foundation and I add some solid perfume I bought at Lush. I swear by that stuff so when I greet my BF after a day of flying he's happy I'm back and not thinking how smelly I am.
Samples, samples, samples. If you've got a Sephora insider card you can get deluxe samples for every 100 points, and there's usually a decent makeup, cleanser, lotion, whatever. And if you order online, in addition to the insider sample, you get three small samples. Most of them aren't great for travel, unless you get a perfume you like. Also, if you look for coupons online you might get more stuff. You can also buy starter kits and gift sets that have deluxe sample sizes in them that are great for travel.

I'd also recommend dual purpose items wherever possible. Tinted moisturiser instead of foundation and moisturiser. I personally like E.L.F.'s tinted moisturiser ([www.eyeslipsface.com] it's cheap, it's smaller than most others I've tried, so it frees a lot of room in that ziplock, and it feels a lot nicer on my skin than the others, but YMMV. A stain instead of lip color and blush. Stila ([www.stilacosmetics.com] and Benefit ([www.benefitcosmetics.com] both have good ones. Stila also has the convertible color compact ([www.stilacosmetics.com] which covers both.

Palettes are great for eye makeup. Pretty easy to find, loads of companies make them. I'd personally recommend Stila (yet again) simply because they have these great travel palettes ([www.stilacosmetics.com] that include the aforementioned convertible color. There's five total, the last one comes out next month.

Perfume, if possible I'd suggest a roll-on version, if not, Sephora has an atomizer ([sephora.com] that's pretty cheap. I think they have black in store, though I only saw pink on the site. I had a hard time figuring out how to fill mine. If you can't open the perfume bottle, spray directly into the funnel that comes with the atomizer.

Shampoo, conditioner, lotion, or anything else you'd need, if you can't find a travel size, the empty bottles you'd find in Walmart or Target are excellent. I think they're even slightly bigger (but still airline approved). If you dye your hair at home, the conditioner they give you is usually WAY too big for what you really need, if you reuse the same one a couple of times when you redye it, can save those up for travel. You need even less when you haven't just washed those harsh chemicals from your head. Travel toothbrushes are cheap and fairly easy to find, and if you don't need a particular hairbrush a pop up travel brush ([sephora.com] is great.
G/O Media may get a commission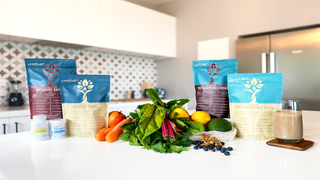 From commenter windmilloflove:
Everyone's pretty got the travel kit covered but one word of advice I have for airplane trips is to bring couple washcloths inside of two ziploc bags. When you are on the plane you can use those on your face to wash or to scrub and freshen/wake up in the airplane bathroom. Then the wet ones can go in the second ziploc and the dry one's in the first ziploc.
I recently went on a 10 day trip to Greece, so mine is for an extended vacation and an airport friendly carry on:

First, I recommend a trip to Target for travel bottles. There are these really small tubs that are perfect for holding face wash and moisturizer.

These are the must haves:
-Face Wash & Moisturizer (in travel containers)
-Mascara
-lip gloss
-Cheek glaze or highlighter
-Eye Make-up remover (towelettes)
-Compact Mirror

It sounds like a lot, but I can fit everything in a small make-up bag (think the Estee Lauder gifts from Dillards). And I suggest cheek glaze over blush because you can use your fingers to apply, and the highlighter can do double duty for your eyes.

And for all you other black women, don't forget that doo-rag! On long flights, I use a brown one to wrap my hair, so I don't look like a hot mess on arrival =)
If you tend to forget things, for an extended trip it helps to start around a week in advance and every time you use/apply something, decant it into the small travel size and toss it into a bag. Travel day comes and you're done.

There are makeup remover cloths (CVS, I think) that are dry and you wet to use them — I have a thing about using hotel washcloths on my face. I fold these and pack a small supply in a travel soap container.
Someone below mentioned shampoo bars as a way to get around the airline liquid limit. LUSH makes a bunch, but most of them seem to have SLS in them. J.R. Liggett makes one without SLS: [www.iherb.com]
Don't be fooled by the packaging. It's actually a pretty good shampoo in its own right. It is also gentle enough to use on your face and as a body bar too.

I also like powdered facial cleanser for travel. It's less messy and is yet another way to get around the liquid limit. I really like DHC's Washing Powder. HABA, Komenuka Bijin and Fancl make powdered cleansers too. And there are a few sellers on etsy who make their own. Just search for "washing powder" or "cleansing grains" in the Bath & Beauty section.
From commenter SomeAuthorGirl:
My all-purpose travel bag I could not and would not live without. It's only about 7"x4"x2", though I seem to be able to cram a whole lotta shit in there. I got it at Target for something like $7 on sale, and it zips closed, with two inner pouches and organizers. This sucker goes with me on every single overnight, business trip, and vacation.

It contains the following (though please note, it does not carry-on a plane, it's not clear):

Black, brown, dark purple and green eyeliners
Eyelash curler
Rimmel Sexy Curves mascara in black
Bare Escentuals travel size mineral foundation and applicator
A small 4-color eyeshadow kit
A refillable 2oz tube for my DHC deep cleansing oil
A refillable 2oz tube of witch hazel
A small ziplock baggie with Olay cleansing cloths, I try to keep 3 in there at all times
About 10 q-tips
4 or 5 cotton balls
Neutrogena spot treatment
A few very small hair ties
A few bobby pins and a set of Spin Pins
Lip Venom
Burt's Bees Papaya lip gloss
Maybelline lip stain in red
A toothbrush
A travel size toothpaste
Tweezers
6 condoms in two sizes
Two doses of Alka Seltzer

The only thing I feel like it's missing is a sewing kit.

I used to have a slightly less well stocked one that didn't have all the organizing features. While it was great and I always had what I needed, it was kind of a mess - there's nothing worse than waking up hungover in a hotel room, then having to dump out a whole bag to find a fucking bobby pin.
I typically like to keep it to just a carry-on when I fly which always forces me to rethink the 3oz. travel bottles. since I have many contact lens cases that never get used, I washed one of the cases with soap and water, then filled one side with face moisturizer and the other with some foundation (I blend mine anyway, so this was even easier). It really saves space for the things you only need in small quantities
Purse Packing:
From commenter some obscure reference:
My throw-in-my-purse, go-everywhere case contains:

Makeup: Foundation compact. Concealer tube. (Since I get these dark circles under my eyes, I favor the Physician's Formula double-tube of yellow and skin-colored concealer.) Blush. Neutral eye shadow. Black eyeliner. Two mascaras - one suitable for day, one for night. Long-wear lipstick. Two lip glosses. Non-makeup stuff: Lip balm. Tweezers. Small nail clippers with file. A couple of pads and tampons, just in case. A few hair elastics. And, yes, safety pins.

This covers me for just about every makeup need, and the non-makeup stuff makes me very handy for my friends to have around
to-go bag for the purse:
powder compact
lip balm
hand cream
bobby pins/hair elastics (i.e. whatever you use to keep your hair back)
safety pins (i learned that i should do this the hard way just this past week)
small hairbrush
gum/mints (i feel like as good as a travel tootbrush/paste set would be it takes up a lot of space...)
small travel nail file
pill case with essential meds of choice (tylenol, advil, etc.)
HAND WIPES. Much better than gel.

items besides those above that i personally include
black eyeliner (urban decay 24/7 in zero)
travel perfume/perfume samples (juicy couture, givenchy, and stella)
cuticle oil/moisturizer (opi avoplex travel size!)
neosporin to go spray because i am clumsy
new skin liquid bandage, because this is the best thing for when i tear open a cuticle at work
hydrocortisone cream AND a stick h.c. as well.

So yeah, it seems like a lot but most of it's small stuff and I keep it all in one bag so I can change purses a little bit easier.
From commenter resplendent.bitch:
Simplify, simplify, simplify. Something will spill, leak, get lost or get left behind. I'm a fan of buying travel-size shampoos, deodorants, contact solution, toothpaste and hair products when you get to your destination, assuming this is reasonably convenient (obvs this will vary if you are going on a rainforest eco-tour).

Consider putting smaller quantities of cant-live-without products into travel-sized containers (you can pick these up at your local drugstore or Target).

Your purse touch-up bag should contain: concealer or tinted moisturizer, lipstick, powder or blotting papers, a brush and something to tie your hair back with.

Your overnight bag should have all these plus a contact case, toothbrush and condoms.

Your travel bag should have all of the above plus some neutral eyeshadow, liner, mascara, a couple emergency tampons and pads, some AZO, a nail clipper, any of your can't-live-without products, sunscreen, and a curling or flat iron.
For Overnights'
From commenter PupPup:
For overnights and short trips (y'know, sleepovers) I usually don't want to deal with having lots of little things floating around in my bag, because trying to find my black eyeliner in my black backpack in an unlit room is challenging, for example. I usually just pack a pallette that has a subtle blush, an eyeshadow, and a lipgloss. My go-to is one from Hard Candy, but they recently changed their line and probably don't make it anymore. In addition to that I'll pack a scented deodorant and a solid perfume in something relatively neutral like vanilla. Even though I may be dressed down compared to my usual look, I still have the confidence of having put in some effort.
From commenter SylviaPlathWasFramed:
Whenever one of my friends goes through a breakup and starts to be ready to date again, my group of best friends gifts her something called the "Slut Clutch" for her oncoming hookup stage. I got one for my big heartbreak, and the tradition has stood the test of time.

It's a small vinyl makeup bag containing mascara, eyeliner, pop up brush, Wisp toothbrush, condoms, Advil, and a cab company card. I added concealer, face blotting papers, and $20 for cab fare so I could jump ship on a hookup if it didn't feel safe or good.

Now that I schlep over to my boyfriend's, I keep the same bag in my purse. Over the stages in our relationship, it's contained Gas-Ex strips for the "can't fart in front of him" stretch, birth control pills, and finally the extra keys to his house.

Transitions nicely to a Love Clutch!
Overnight Stay: dry shampoo for your hair so it doesn't look oily in the morning. A perfume rollerball to smell nice, and if your perfume doesn't come in rollerball, you can always buy a little atomizer and pour some perfume in it. Mini deodorant can be found in the travel section of Target. Facewash towlettes for makeup removal. For makeup: tinted moisturizer, blush, mascara, and chapstick. Just bring your basics.
I do overnights once a week at work where I have to sleep there so I have this down.

For decent, controllable hair in the morning: shower before bed and put in a dime-sized dollop of Bumble & Bumble's Grooming Creme. It works wonders in smoothing fluffy hair and no blow-dry required.

For beauty products, I just dab on some MAC concealer in the morning and some mineral blush. Quick and easy!
My go-to overnight make up kit is really a pared down version of my regular kit.

1. My favorite foundation (which doesn't require powder)
2. My favorite eyeliner+ mascara and 3. 1 neutral choice of eyeshadows and blush that will go with anything+
4. A good concealer that can do double duty for zits and dark circles.
I stash this in a small bag that I keep ready to go with travel-sized containers of shampoo and conditioner and then you are ready to go.

You can turn a day look into a night look by just using a heavier hand and aiming for the darker shades of eye shadow.

The one thing I always bring with me is my everyday face wash and moisturizer. This can really save you from the super-dry skin or breakouts that I always end up with from hotel freebies.

In my desk at work, I keep a concealer (I have the worst hereditary dark circles) and mascara... it can do a lot to perk you up.
For The Office:
From commenter NMGirl:
For the office/school:
If you have oily skin, oil blotting papers are a godsend. But if you don't wear any foundation/powder on your face, I've found that cetaphil cleanser works marvelously to get rid of the oil. It's practically like washing your face, but you can just put some of the cleanser on a tissue and wipe it across your face. It gets rid of the oil and leaves your skin feeling soft. you can put it into a travel bottle to avoid taking the whole thing with you.

I also like keeping anti-bacterial wipes, because at least where I leave, for some reason, going outside for even five minutes can leave you smelling absolutly nasty (sweat, pollen, I don't know?). Anyway, I usually use one on my neck and chest to get rid of the stench.

Personally, I feel that the one go to makeup item you should go to is eyeliner. I know most people say mascara, but personally I feel it glams me up the best. you may also opt for a concealer/foundation, since at the very least you'll have a clean complexion.
At work I keep powder, a clinique compact that has 2 eyeshadows, blush, and bronzer in it, chapstick, and a mini mascara. I don't always get up early enough to put on makeup so sometimes I just do it as I boot up my computer.
Didn't get the answer you were looking for? Be sure to read through yesterday's thread, which is filled with hundreds of tips and tricks. Disagree with something you've seen here? Feel free to set the record straight in the comments. Have an idea for a future edition of Beauty 101? Send it in to our tips line with "Beauty 101" in the subject line.
Earlier: Beauty 101: Making A Getaway
Looking for advice on another beauty topic? Check out the other Beauty 101 Q & A sessions:
Beauty 101: Your Styling Tool Questions, Answered
Beauty 101: Your Fall Beauty Questions, Answered
Beauty 101: Your Office Beauty Questions, Answered
Beauty 101: Your Beauty Disaster Questions, Answered
Beauty 101: Your Special Occasion Makeup Questions, Answered
Beauty 101: Your Drugstore And Department Store Recommendations
Beauty 101: Your Makeup Removal Questions, Answered
Beauty 101: Recipes From Readers
Beauty 101: Your Scent-Related Problems, Solved
Beauty 101: Your Summer Beauty Dilemmas, Solved
Beauty 101: Your Blush And Bronzer Questions, Answered
Beauty 101: Your Skincare Questions, Answered
Beauty 101: Your Eye Queries, Answered
Beauty 101: Your Nail Questions, Answered
Beauty 101: Your Lipstick Questions, Answered
Beauty 101:Your Hair Questions, Answered
Beauty 101: Your Waxing/Shaving Questions, Answered
Beauty 101: Your Foundation And Concealer Concerns, Answered
Beauty 101: Your Eyeliner Woes, Solved
[Image via Magnola/Shutterstock]