This week, our Beauty 101 series is all about the eyes. You had questions, and your fellow commenters have the answers:
As always, I'd like to thank everyone for their submissions: unfortunately, due to space constraints, I can't use them all, but I appreciate every single one. And now, a few tips on everything from plucking brows to prepping lashes:


On Brows:
From Callie, via email:
If you have brows that are not hugely bushy but need cleaning up around the edges (especially the bottom of the outer half of your brow), the best way to know which eyebrow hairs to pluck is to get a toothbrush (unused if you're particular, the one you currently use if you don't care) and use it to brush your brows straight up your forehead, like you're some kind of animal, or Andy Rooney. Magically, all the eyebrow hairs that do not belong underneath your brow will stick out like sore thumbs. Seriously, you will notice the dividing line between brow hairs that fit into your ideal arch and those that are outside the lines you just can't tell with your hairs brushed into place.

The other benefit of this tip is that you will get a result that looks totally natural. You will not get an overplucked look.
From HW, via email:
Threading! Threading is the absolute best for grooming and maintaining eyebrows. It lets you remove an entire (straight!) line at once, and can get every hair that gets tangled up in it. It is a cheap service you can have done at salons, but I do mine myself at home. Just make sure you use a 100% cotton thread! Synthetics won't have the right kind of grip.
G/O Media may get a commission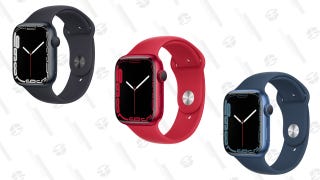 Up To $45 Off
Apple Watch Series 7
From commenter ManicPixieNightmare:
Eyebrow Grooming 101:

You need: an index card, eyeliner, tweezers, small scissors

1. Stand in front of a mirror, holding the index card so that it looks like a thin line. Line it up with the end of your eyebrow closest to your nose. Swing it out in an arcing motion to the other end of your eyebrow. Looking dead ahead, arc it slowly back until the line of the index card cuts through your pupil.

2. Make a mark with the eyeliner. This is where your arch should be.

3. Using your tweezers, pluck unwanted hair from the bottom of your brow and the side of your brow farthest from your nose only. If you pluck from the top, you lower your brow line and look frowny. If you pluck from the side closer to your nose, you'll ruin the arch and make your brow too thin.

(NOTE: Please pluck one hair at a time. Also, pluck in the direction the hair grows.)

4. Use your judgment for when you've plucked enough, but be generous the first several times. It helps to have someone experienced do it the first time so that you know what your shaped brows should look like.

5. Scruff up your brow a bit. Lay the index card along the top of the brow line. Use the scissors to cut off the little bits that stick out.

6. Moisturize. When you do a make-up job, use brow gel for a more polished look. (Personally, I rely on my snipping. I hate the feel of brow gel.)
For Glasses-Wearers:
From Victoria, via email:
My advice is to get the two sided handheld mirror that has one regular
mirror on one side and a magnifying mirror on the other. Make sure
there's really good lighting, or if you can, get the tweezers with the
little flashlight in between the tongs. Tilt your head upwards and
look down into the magnifying mirror while you're plucking. When
you've finished half an eyebrow put your glasses back on to make sure
you're on track. Once you've finished both, make sure the proportions
match up - use your tweezer as a line and make sure the highest point
of your arch is at a 45 degree angle to the pupil, and that the edge
of your eyebrow is at a 45 degree to the outside of your iris. Of
course, the easiest way to maintain your brow while being near sided
is to just do it more often, so you can pluck less each time. I pluck
mine every two weeks or more!
For those nearsighted folks, I REALLY recommend getting a round 10x magnifying mirror that sticks to your regular mirror with suction cups. They are not expensive, and you can get them at Target.
From commenter katienator 5000:
I am a bespectacled gal and have only very recently ventured out of my safety zone of mascara and eyeliner.

One day I was trolling YouTube and found some really good video tutorials for people with glasses. I can't remember her name or find the link but here are the things I learned:

1) Concealing dark circles is an important first step because shadows from frames and lenses can make them look even darker and obscure the look you were going for. An even skin tone all around the eye makes for a good pallet.

2) Since most people wear their glasses not-right-at-the-top-of-the-bridge-of-the-nose, the lower lash line is a little more important than the upper. She featured an almost reverse smoky eye, with the color and shading blending down from the lower lash line and the upper lash line very defined but clean. You can do bright colors here, too, which I very much like.

3) Mascara is your friend, as well as that scary-looking eyelash curler. Falsies look even better with glasses, not as fake and totes glamorous. There's no need to wonder "Am I putting too much on?" because there really is no such thing as too much mascara (unless, of course, your lashes turn into one giant clump of black. that is too much).

4) The Attitude Sells It. Ok, that wasn't in the videos but it's true. We're here, we wear glasses, we are damn fine, get used to it!
On Fake Lashes:
From commenter winemedineme:
Fake eyelashes, whether individual (my preference) or strip, there are two things that are key:

1. DARK eyelash glue. I can't emphasize how much this covers up mistakes you might make. Head thyself to Sally Beauty, where you can buy it for individual or for strip lashes, and it's under $5.

2. Tweezers. I have a set I use just for lashes, 'cause they get stained with the dark glue.

I don't think individual lashes are too over-the-top. I have fair, fine lashes and though mascara helps a lot, individual lashes give me some extra oomph. I used them at a big business meeting, and some lady I was introduced to said "My goodness, you have beautiful eyes!" so I figure I do okay. They really do open up your eyes. Oh— and buy the Ardell Flair, not the *really* individual lashes. They're a pain.

When you apply the lashes, put a tiny amount of glue on the lashes, whether individual or strip. Let it become tacky— just wait about 20 seconds before applying. Strip lashes, make suer to wiggle them as close to the lash line as possible AFTER applying eye makeup. It makes it look less obvious. With individual lashes, the method is more like laying them on top of your lashes, as close to the lash line as possible. This is where a magnifying mirror can help. It takes some practice but is so worth it. For me, a "natural" look on each eye is 5 medium Ardell flairs on each eye. For a more dramatic look, I'll either use more or use longer lashes.
Fake eyelashes. For the strip kind, cut them in half. Discard the part that runs from the tear duct to the center of your eyelid, and keep the part that goes from the center of the eyelid to the corner.

Dip the end of a pin into the adhesive, and run it lightly across the edge of the strip. Wait until the glue dries slightly. It should be tacky, not gloppy.

I find it easiest to start pressing the falsie down from the center of the eyelid, and gradually working across until you get to the corner.

You're not trying to exactly match your lashline; it should be slightly above. Blend them with your lashes by curling them and applying a light coat of mascara.

Voila!
On Eyeshadow:
From commenter SusanDeath:
My best recommendation for good eyeshadow application is good brushes. My eyeshadow sucked until I started caring about my tools. Even my Maybelline eyeshadow can look great now with my MAC 217. Also, curling your eyelashes makes a biiiiiiiiiiig difference. Really makes your eyes pop! And tight-lining (pushing eyeliner, preferably liquid or gel/cream directly into the lashline as opposed to above it like regular liner) also makes the lashes look much thicker.
I use a cream shadow that matches my skin tone (brown) as a base. Apply with fingers. Then I apply powder shadow on top of it and darker shadow in the crease and blend outward with fingers. I use an angled brush for the crease and a soft round brush for whatever powder shadow.
To get smoky eyes...I use black shadow and a very thin flat brush. Apply very sparingly and smudge with fingers. I also use black eye pencil to line the inner rims of my eyelids. Then apply 2 coats of L'oreal very black mascara (after curling) and voila, smoky eyes.
Really the best tool is your fingers & a tissue.
My eye makeup tips/tricks:

Shadow, instead of a base I use a small amount of cream shadow in a light shade. Laura Mercier has some good ones, they're pricey but you only use a bit so they last forever.
Then I dust a matching shadow over that, for day usually just a very light shade that brightens my eyes a bit. A bit of slightly darker shadow in the crease only. Then I use cake eyeliner and a flat eyeliner brush and just put a thin line right under my lashes, top lid only. For mascara I use one coat of primer then one or two coats of mascara. Sadly my favorite mascara was discontinued so I'm test driving a few. After I apply the mascara I take a clean mascara brush and brush the lashes to separate them a bit. Overall the effect is (I hope) polished but not overdone for a nice day look. And it only take a couple of minutes to do
.
From commenter heartsrevolution:
Remember, there's no RIGHT way to wear eyeshadow. Do whatever you please, but I will give you some guidelines.

Before you do anything, determine if your eyelids are oily or not. If they are oily, you may want to put concealer on your eyelids to even out the color and kind of matte-ify the area. This is optional. However, you should use eyeshadow primer (this is very important!). Eyeshadow primer helps control oils, increase the staying power of the shadows, minimize creasing, and so forth. PLEASE invest in a good primer! I currently use Urban Decay Primer Potion ($17-$18 at Sephora or Ulta), but there are plenty of other good ones (even in the drugstore). Remember this: it's better to have a good quality primer than a good quality eyeshadow.

Swipe on the primer and let it sit. Before you apply eyeshadow, I recommend that you buy at least two different brushes: a dense, medium-sized eyeshadow brush that is good for packing on color and a pointed, fluffy crease/blending brush (Sonia Kashuk has a good one if you have access to Target...it's only around $7). This brush is really easy to use because it's soft, can easily put color where it's supposed to go, and it's great with blending. From experience, I find that brushes are the best tool to use for eyeshadows. Second best are your fingers. Sponges just don't cut it!

As a guideline, most shadow palettes come with three to four colors. I'm just going to be simple and use three colors. Usually, you apply the lightest color first. Use the eyeshadow brush and pat on not rub on the shadow on the inner third of your eye (from your nose). You may have to repeat this process to get the color you want, and remember to PAT ON the color. Repeat the same process for the middle shade, but place it all over the rest of your lid, blending (using the brush or your finger) the color into the lightest one. Finally, use the crease/blending brush to place the darkest color in the outer corner and crease area of your eye, making a C- or an inverted V-shape in that area. This creates depth to your eye. Blend the colors again using your finger or the brush. Finally, take the lightest color and put it under your brow bone to add a nice highlight.
Applying eyeshadow: Generally, avoid the little sponge tip applicators. They're good for applying a wide swath of color, but bad for blending or control. Instead, invest in a few eye brushes (you can also get them at regular art stores, find soft watercolor brushes). I tend to use only two on a regular basis, with two more that I use only for dramatic makeup.
- A soft, somewhat fluffy brush with longer bristles for applying color over the whole lid.
- A short-bristled, stiffer brush for applying to the crease/specific areas.
- A stiff brush of the sort used for acrylic paints, small and straight across.
- A stiff brush with an angled end.

Apply a base color over the whole lower lid, and the upper lid as well up to the brow bone if the base color is light. If the base color is darkish, apply a highlighter color just under the browbone. Then a darker shade with the shorter, stiffer brush along the crease (blend it /well/) and if it's to your taste, line the upper eye from the outside corner towards the middle as well. That's why there's usually three shades in an eyeshadow set.. a base color, a highlighter, and a crease color.

Start out with neutral shades and not a lot of contrast, and work your way up. I can't say it often enough, the number one best way to get good at putting on makeup is not to wait until you have a big event and slap some on, but to play with it when you don't expect to go out of the house and just see how it feels, how it acts with different brushes, how different colors look in different combinations, etc.
Consider playing around to be like an artist with a sketchbook... you don't just go raw into a full figure painting.
yay! i've been waiting for this one because i absolutely love playing with eyeshadow colours. I have almond shaped eyes and not much of a crease so the contouring talent has always eluded me but i have some basic tricks that i learned at sephora. This works with any palette with 4 colours and its the most fun if the colours are fun and different, especially for spring.

step 0. don't put on any other makeup first because some of your eyeshadow will probably fall onto your cheeks and it'll stick to your foundation. if your skin is clean you can just wipe up the spill and carry on.

1. the lightest colour goes all over as a sort of base. you could put up to the browbone but since i don't have much contour i don't think highlighting really works for me.

2. look straight in the mirror. see where your pupil is? move a little bit laterally ("outside"?) and put the darkest colour right there in a wedge shape out to where the eyelashes end.

3. do you have another colour? is it a brightish colour like pink or pale purple or something? white would work too, just make it different from the base colour. Put that on the inner corners, don't be too precise. i just take a brush and kind of smoosh it in the inner corner. if it looks too precise it can look obvious.

4. You should have a bit of a gradient going across the eyeshadow. Bright on the inside, a sort of medium colour in the centre, and then a dark part on the outside.

5. blend! it'll look scary until you blend it. It won't look as striped but you want to keep the colours nicely defined.

6. put eyeliner on last. I know a lot of beauty advice people say to put it on first so it goes on smoothly but i don't love the way it looks when it gets covered and smudged by the eyeshadow.

7. finish with mascara and voila! if you're feeling frisky drag some of the darkest colour along the bottom lashline either instead or on top of some eyeliner. It might be a bit dramatic for work but it's pretty fun for night time.

If all else fails, hit up Lauren Luke's videos on youtube. She makes it all look super easy!
On The Smoky Eye:
From commenter MollyGrue:
Perhaps the only make-up thing, beyond basic concealer and powder, that I am any good at is the smoky eye. It takes maybe two minutes and has a lot of wiggle room to be imprecise.

Materials:
Physicians Formula Baked Collection Wet/Dry Eye Shadow in Baked Smokes
A small fluffy brush (mine has bristles about 3/8 in. long, 3/8 in. wide, 1/4 in. deep)

1) Start with the lightest color and fill in the entire area between your top lashes and your brow bone from one corner to the other. (I have light skin, so this color only barely shows up on me.)

2) Take the medium color and fill in the top eyelid. (I think this is sometimes referred to as the area between the lash and the crease, but I could be wrong.)

3) With the darkest color, start about 1/4 in. from the outer corner, and—with the widest part of the brush parallel to your eyelid so you're making the thinnest line possible—pull toward the outer corner following the crease, and once you get to the corner, give the brush the slightest flip up. You shouldn't see a curve unless you're looking for it, but this will open up your eye. If I give it too much curve, I just make the line thicker.
Steer Clear Of Old Products/Keep Things Clean:
From tessa, via email:
This is honestly the most important thing. You know how they tell you to throw away mascara after three or four months? Do it. I once got a serious eye infection from mascara that I had found in a coat pocket from the winter before (I was a teenager and it seemed like a good idea at the time), and the optometrist showed me scary photos and told me scary stories. I now label my mascara with the date that I opened it to be sure (seriously: scary stories). This also applies to liquid foundation.
This goes for all makeup application Q&As we've been doing: wash your brushes regularly. You can get pre-packaged brush wash from basically any store that sells makeup, or you can just use diluted baby shampoo. Wash the brushes regularly, depending on your usage, and then let them air dry. This will help bacteria growth which can help prevent topical skin infections. I learned this one the hard way :(
Didn't see your question answered here? You might want to read through yesterday's thread, which has hundreds of tips and tricks from your fellow commenters. Disagree with some of the advice you've seen here? Feel free to set the record straight in the comments. And of course, suggestions for next week's Beauty 101 topic are always welcome.
Earlier: Beauty 101: "Like I Fell Face First Into An Impressionist Painting"
Beauty 101: Your Nail Questions, Answered
Beauty 101: Your Lipstick Questions, Answered
Beauty 101:Your Hair Questions, Answered
Beauty 101: Your Waxing/Shaving Questions, Answered
Beauty 101: Your Foundation And Concealer Concerns, Answered
Beauty 101: Your Eyeliner Woes, Solved