This week's Beauty 101 is focusing on adapting one's daily routine to keep up with seasonal changes. You had questions, and your fellow readers have once again come through with the answers.
A reminder: this is all user-generated content, and though I can't use everyone's comments, due to space, they are all much appreciated. And now, a few tips from your fellow readers (and it is perhaps good to keep in mind that any major skin issues might warrant a visit to the dermatologist's office for professional advice):
On Preventing/Treating Chapped Lips
From commenter eastvillagesiren:
Put honey on your lips every night; it's a good humectant. Dr Hauschka lip balm is expenseive but good; it has castor oil, which is a good barrier oil.
From commenter lurkerbynature:
One of the things I use for chapped lips and/or other dry patches is Vitamin E oil before bed. I try to avoid any nice flavored lip balms, because I've learned that I will lick my lips without realizing it and that will just make things worse.
G/O Media may get a commission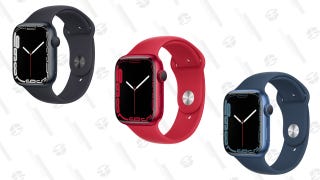 Up To $45 Off
Apple Watch Series 7
From commenter chrlottepdrsen:
Vaseline is the cheapest and most efficient, in my experience. I use it every morning and every night before I fall asleep, and use Blistex Complete Moisture chapstick in between if needed. Instead of Vaseline you could use Blistex Daily Conditioning Treatment.
From commenter ObservantUnderachiever:
I carry a tin of Rosebud Salve with me wherever I go. It's great for dry lips, cuticles, elbows, etc.- if it's dry, Rosebud Salve will fix it. If I don't apply it early/often enough and my lips get very chapped, I use Blistex DCT until my lips heal. I'll also alternate between products, but that's more depending on what I have in my bag at the time.
Lucas' Pawpaw ointment is the greatest thing ever for dry, chapped lips and those nasty red flaky patches you get around your nose.

I used to play trumpet and would get really bad dry lips - think a giant ring of red around my mouth, and after countless drs visit and various creams, this is the stuff that helped soothe the dry away.

It's an Australian product, but very easy (and cheap!) to get online. Grab your nearest Aussie girl and it's almost certain she's carrying one of the red tubes of healing goo in her bag.
Avoid any lip balm containing camphor or menthol. Carmex has both, and on sensitive lips it can be very damaging. Sometimes petroleum-based balms can be bad, too. I only get natural lip balms that aren't petroleum based, and my lips are happy, even in super-cold, high altitude, 10% humidity Idaho winters.
[A thread of non-petroleum based recommendations can be found here.]
On Soothing Dry Skin/Hair:
From commenter charlottek:
For dry skin: Every time you get your skin wet moisturize as soon as possible afterwards. If you take a shower- moisturize! Quickly wash an apple- moisturize! you get the idea.
Use a hypoallergenic, fragrance free cream or thick lotion if you think your skin is even the slightest bit sensitive.
I use Eucerin Urea 10% cream for my super dry areas and a cheaper generic fragrence free lotion for everything else. I would probably use only Eucerin Urea if I had the money for it.

If your skin is persistently dry and uncomfortable even after you start taking good care of it talk to your doctor about whether or not you should see a dermatologist.
Dry face skin: If my face is getting hellaciously dry in the winter, I do the following: moisturize, apply primer (I like MAC face primer as it has a high spf), and then apply TINTED MOISTURIZER over it. It works and adds much needed extra moisture. There are some brands that make a thicker, creamier foundation (MAC is the only one that comes to mind...but it looks like shiseido, bobbi brown, and laura mercier all have some version).

3. Other good products: jojoba oil (a great nighttime face moisturizer, very gentle,) cetaphil (original formula) is a great morning face wash (not so great for removing makeup) and on top of that it is widely available in a generic form that is cheap. :)

I would rather over-moisturize than under (at least and especially at night), for, in the immortal words of drag queen Raven, "I'm 37, I look like I'm 22 and it's because I have oily fucking skin." :D
I have had much better skin & hair since regularly using a humidifier. It's another pesky thing to do before sleep and you have to keep it clean, but it makes a major difference. Also, they are cheap, like 25 bucks and the Crane ones come in shapes including hello kitty.

I also highly recommend using an exfoliating mitt in the shower to remove dead skin and followed by sweet almond oil while you're still wet to seal in the moisture. Pay special attention to backs of arms & elbows.
To help give your hair some way-needed moisture: wet your hair in the shower, then put a shitload of your favorite (preferably 'deep moisture') conditioner through your tresses, paying special attention to the ends. then tie your hair up loose, rinse off your bod, get out the shower, and wrap a plastic bag around your hair - I use produce bags, like the kind I buy apples in. then wrap your towel around the bag, and hang out - read, make a snack, etc. - for 15-20 minutes. Or longer if you want. Then get back in the shower and rinse it out. It's a great, cheap way to do a salon-style deep condition.
Like a previous commenter, I swear by raw shea butter for body, lips and as a hair masque.
I buy it online and then whip it myself in my stand mixer with the paddle attachment. It ends up just like the stuff you buy from L'Occitane, but about a million dollars cheaper.
I imagine you can put essential oil in it to make it smell good, but I'm queen of sensitive skin, so I leave it plain.
On Dealing With Seasonal Allergies:
From commenter n3phllimgirl:
a) Add eye drops and benadryl to the must have items in your purse/bag. If you flush your eyes with the eye drops when they become irritated and follow the directions on the benadryl you can cut down on your suffering really well.

b) Find a mascara that doesn't irritate your eyes and consider keeping a tube of mascara and a travel pack of tissues on you during fall allergy season in case you need to redo your lashes. I've personally had terrible luck with waterproof mascaras as most seem to irritate my eyes worse than my allergies, but if you've had amazing luck with waterproof mascara go for it. In my experience as someone with sensitive eyes and allergies I've found that MAC's Mascara X and Studio Fix Lash don't cause any eye issues, especially if I put a coat of the Lash Prep + Prime underneath.

c) Consider wearing sunglasses after the leaves fall to prevent bits of leaf from getting in your eyes. Or at least have a bottle of saline eye drops so you can flush the bits of crud out.
Healing Cracked Skin On Feet:
From commenter KimberleeJean:
One of the side effects of my cancer treatment is dry palms and feet, so I've developed a pretty quick, easy and inexpensive keeping feet looking nice.

1. Clean off nail polish. For darker colors, HOLD the remover to the nail for a while before wiping.

2. Some people like to soak their feet, but I have to do this all the time, so I just do it in the shower. Wash off your feet with a loofah or similarly scrubby thing near the end of your shower (while your conditioner is in). Then rub the bottoms with a real pumice stone.

3. Dry feet and slather on the moisturizer. I like Udder Cream and St. Ives renewing. Put on some socks & either sleep in them or wear them all day.

4. Wash feet, lightly re-moisture.

5. Cut & file nails

6. Use a separator & try a fun new color. The easiest paint to use is non-quick dry in a non-creme (a little shiny spreads better and IMO lasts longer).

And there you go! I have to do the moisturizer & pumice everyday, but a couple of times a week should be fine for you.
take your feet, smoother them in vaseline and put a pair of old socks over them before you go to sleep. when you wake up just rub excess into skin and your feet will feel super soft and moisturized in the morning (so will your nails).
On Soothing Red Noses:
From commenter Guin Worley:
Blistex is the best thing I've ever come across for an irritated nose. Rose Salve (either Smiths or the Bath & Bodyworks version) is a close second.
Vaseline, or generic petroleum jelly, is great when you're sick and you have that gross, over-wiped, crusty, red situation happening around your nostrils. I use it preventatively when I have a cold. It's great for any chapped skin, including hands or elbows.
Aquaphor, aquaphor, aquaphor. Cannot praise this stuff enough. Put it on your lips or red, raw nose before bed and wake up with lovely, recovered skin.
Didn't see your question answered? You might want to read through the hundreds of tips posted in yesterday's thread. Disagree with something you've seen here? Feel free to set the record straight in the comments.
Earlier: Beauty 101: Seasonal Switch-Ups
Looking for advice on another beauty topic? Check out the other Beauty 101 Q & A sessions:
Beauty 101: Your Office Beauty Questions, Answered
Beauty 101: Your Beauty Disaster Questions, Answered
Beauty 101: Your Special Occasion Makeup Questions, Answered
Beauty 101: Your Drugstore And Department Store Recommendations
Beauty 101: Your Makeup Removal Questions, Answered
Beauty 101: Recipes From Readers
Beauty 101: Your Scent-Related Problems, Solved
Beauty 101: Your Summer Beauty Dilemmas, Solved
Beauty 101: Your Blush And Bronzer Questions, Answered
Beauty 101: Your Skincare Questions, Answered
Beauty 101: Your Eye Queries, Answered
Beauty 101: Your Nail Questions, Answered
Beauty 101: Your Lipstick Questions, Answered
Beauty 101:Your Hair Questions, Answered
Beauty 101: Your Waxing/Shaving Questions, Answered
Beauty 101: Your Foundation And Concealer Concerns, Answered
Beauty 101: Your Eyeliner Woes, Solved
Galushko Sergey/Shutterstock" />